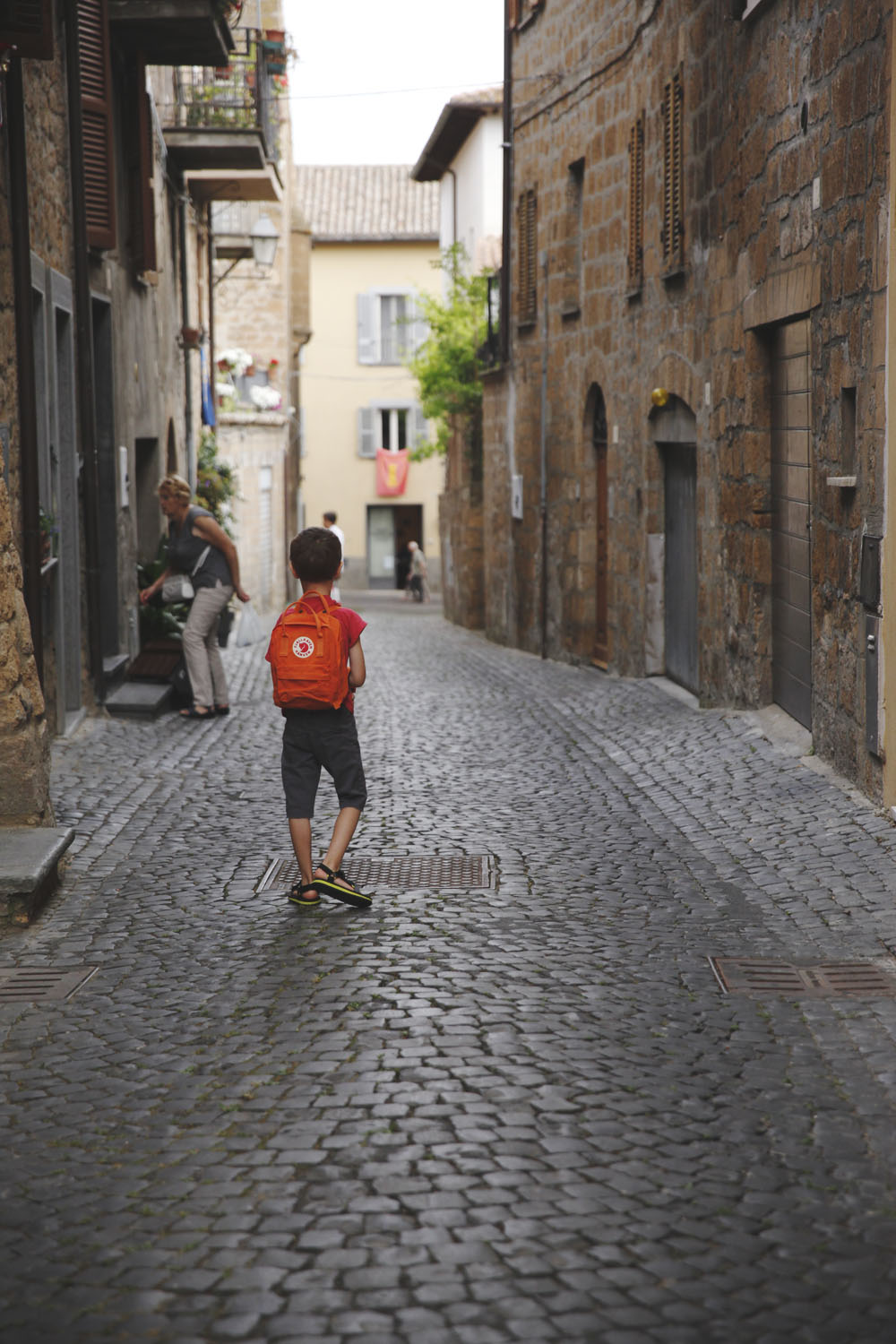 I'm way behind in my blogging. It's been nice getting home after long days spent on my feet and reading a few pages of Diary of Anne Frank before I'm completely knocked out asleep. But there's lots of great pictures and stories to put in this space too. Two weeks ago, the week we first arrived, Steve had an early morning class trip to Rome. We decided to join him to get some time spent in that magical, crazy city.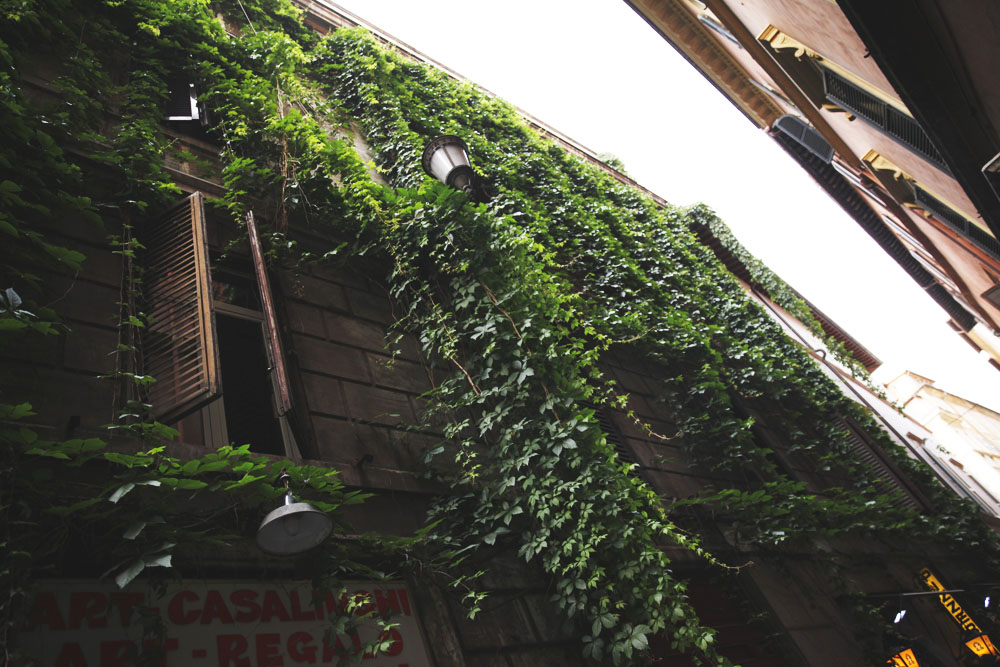 We left Orvieto and took the furnicular down to the station around lunch time to meet our friend Sylvia. Steve was already in Rome. He and the students had a leaving time of 6 am–the boys and I were not getting up that early. Our train ride went off without a hitch–Orvieto is roughly an hour, sometimes more depending on what train you take (most of the fast trains don't stop right at Orvieto's station, so we're usually on the slower local trains), from Rome. We then made our way to Piazza del Popolo by taxi where we found a place to eat.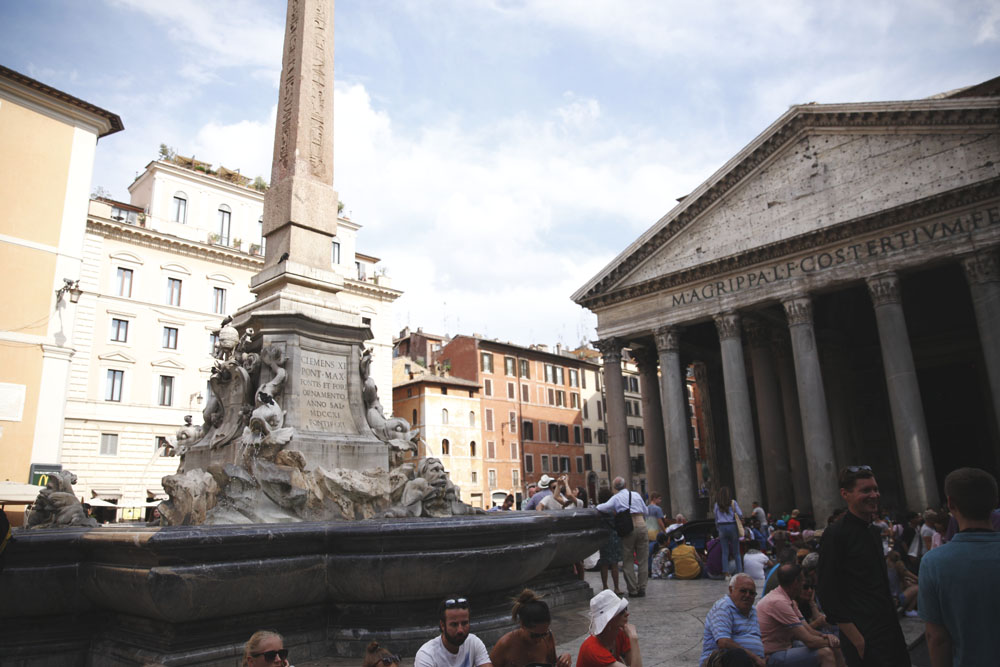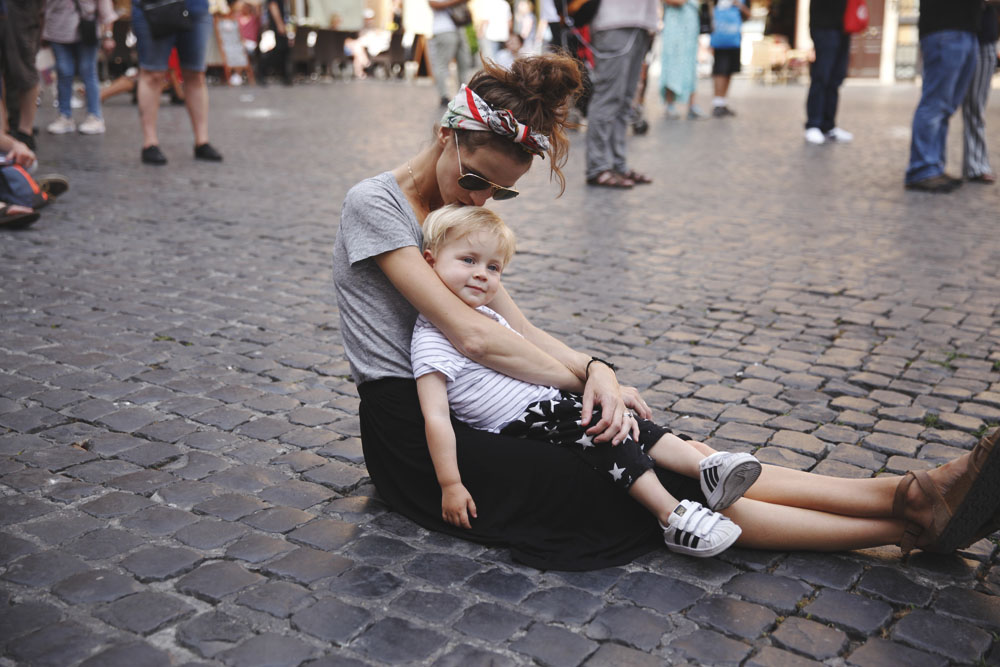 After Steve was done with his class, we met up with him (our phones have been working–most of the time–for quick calls to one another without any sort of European SIM cards unlike last time). For internet, I've been connecting to restaurant's wifi. It's pretty flawless, and somewhat refreshing not to be able to check Instagram at every pause in my day.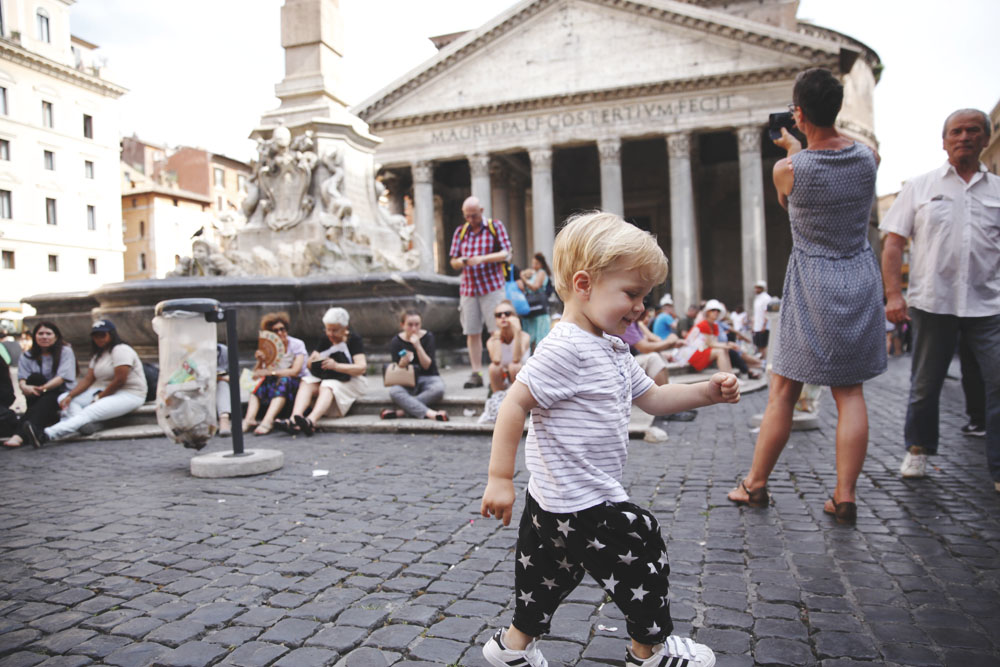 We made our way to the Pantheon area. This spot is forever one of my favorite spots in Rome. Every street leading the way there is so Italian, bustling, cafe-filled with noise and chatter and glasses clinking. It feels like the alleys will go on forever this way and then up ahead you see light and it opens before you and the entire sky is filled with the Pantheon. It always surprises me. It's just there. So unassuming and so grand. I'm confident in saying it is one of my very favorite historical landmarks in the whole city. The sheer size and how it still looks just as it once did. At night, it's especially magical.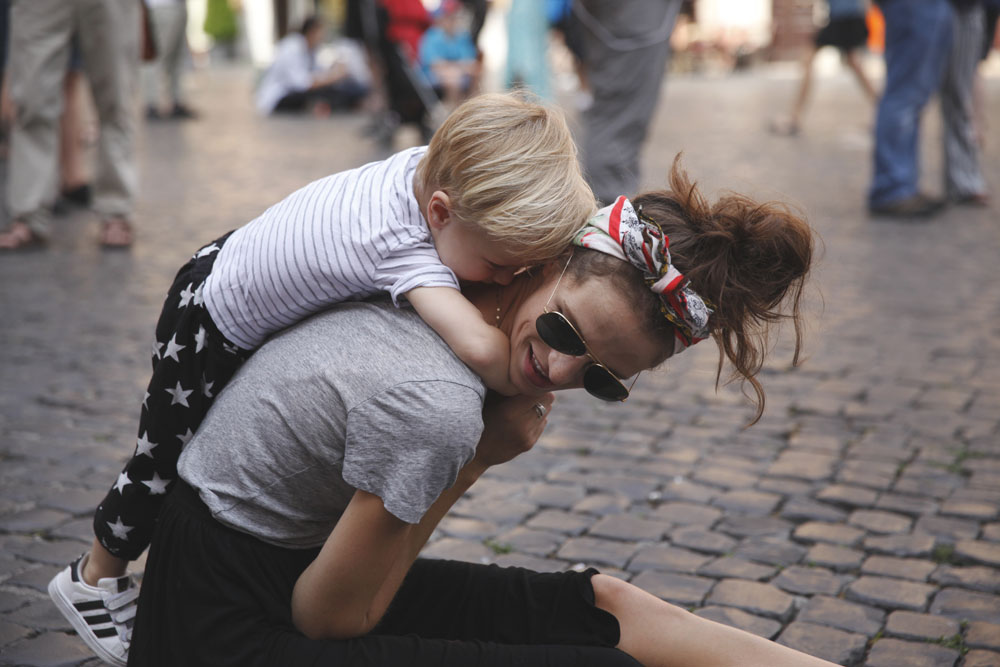 The boys played for a bit running around, filling up their water bottles. It was hot. Every day in Italy was hot!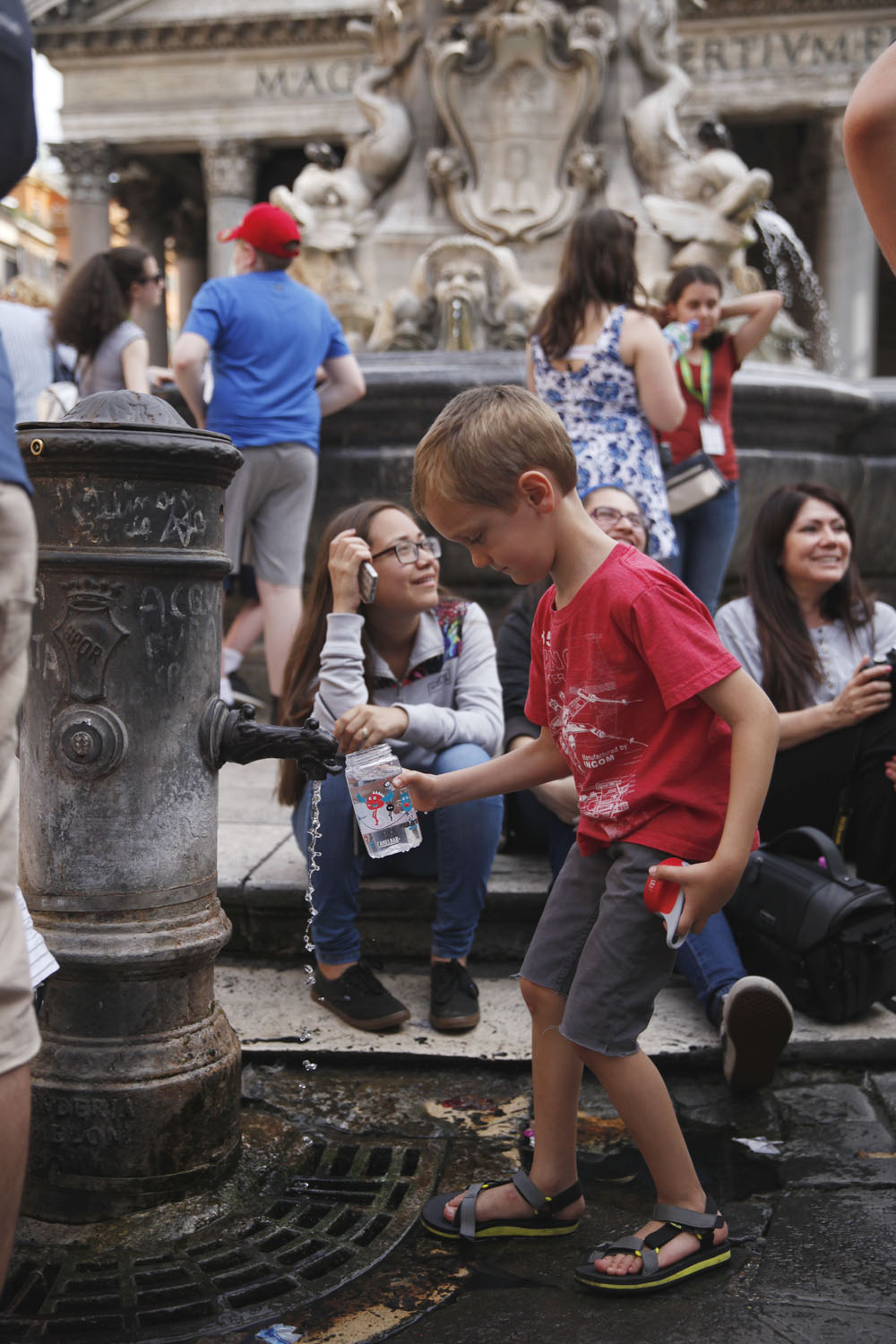 Parker is a pro at filling his water bottles in Roman water fountains at this point. It was fun seeing what he remembered from our last trip. Quite a bit, as it turns out. I'm still wondering if it's truly his memory or our pictures and videos that help keep those things in his head, but either way it's sort of reassuring. It's familiar to him. I like that.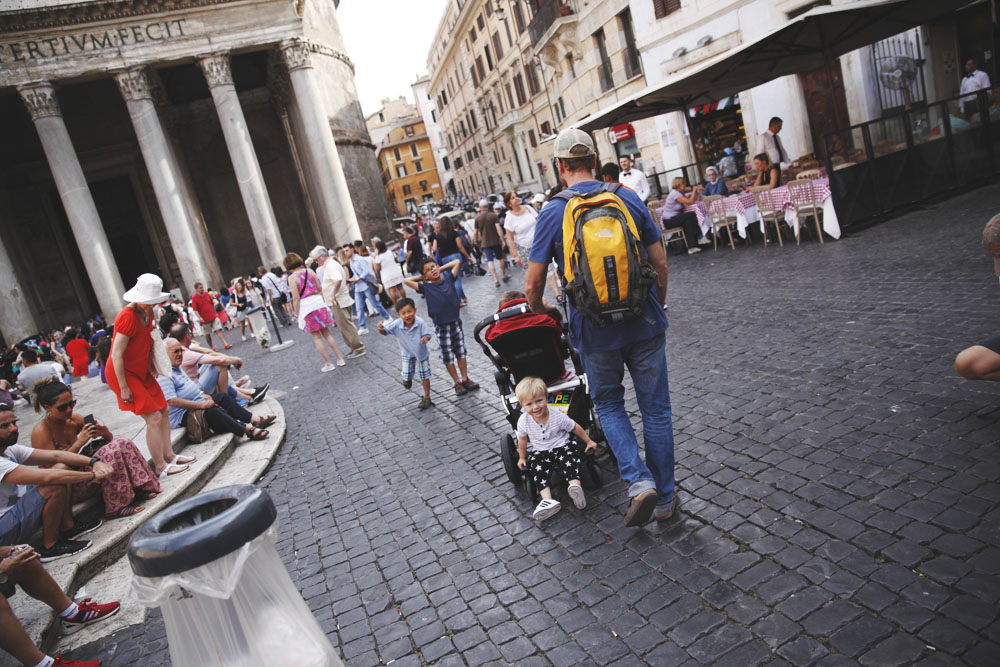 Then we pushed out of there with Anders smiling the whole way while his feet bumped along the Roman road.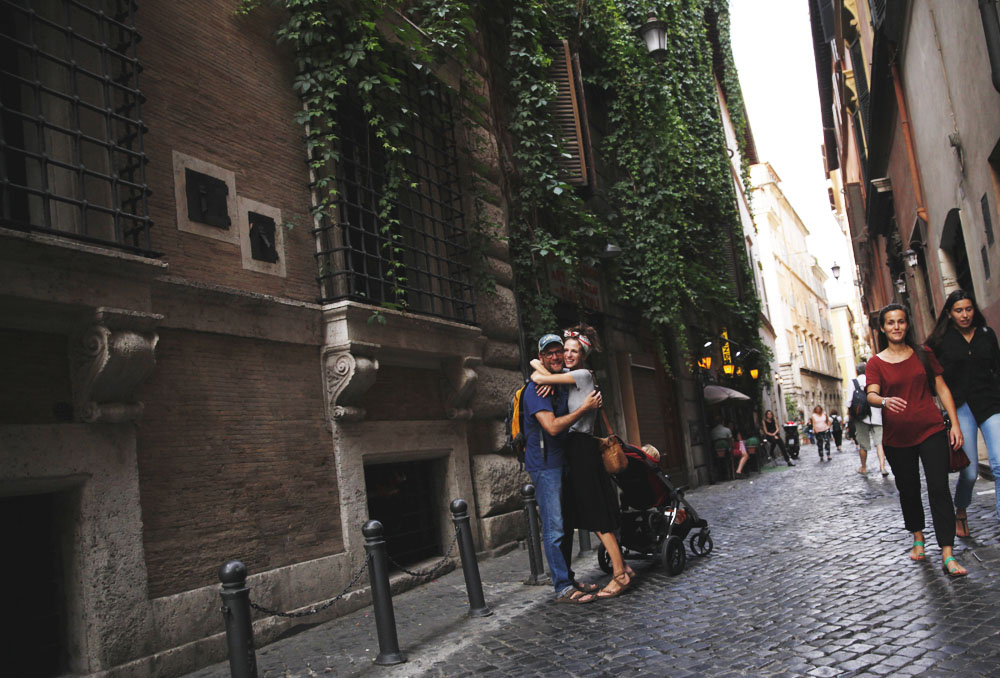 Parker always gets the best pictures of us. We're laughing so much, because he's laughing while he takes them, and because he's click-click-click-clicking a thousand shutters per second. He always gets them while we walk back towards him too. About fifty more of these pictures in my roll.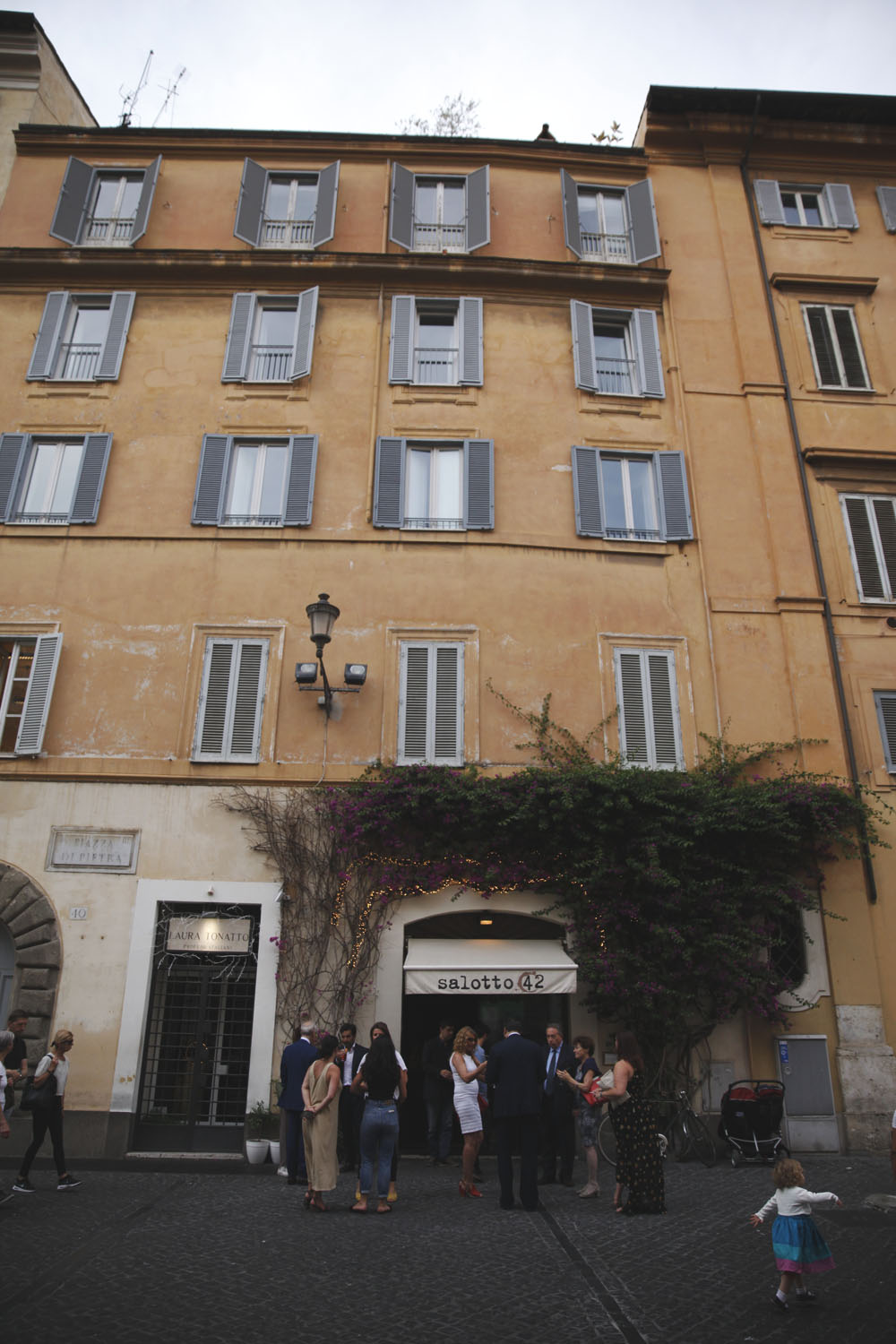 We made our way to Campo de' Fiori for some pizza at one of Steve's favorite spots: Forno Campo de 'Fiori. You can get flat Roman style pizza there, and watch them make it in the window too. It's fun. Then we grabbed some wine and sat at a table while the boys chased pigeons (and, when that got old, watched Moana on the iPad while lying on the street under our table).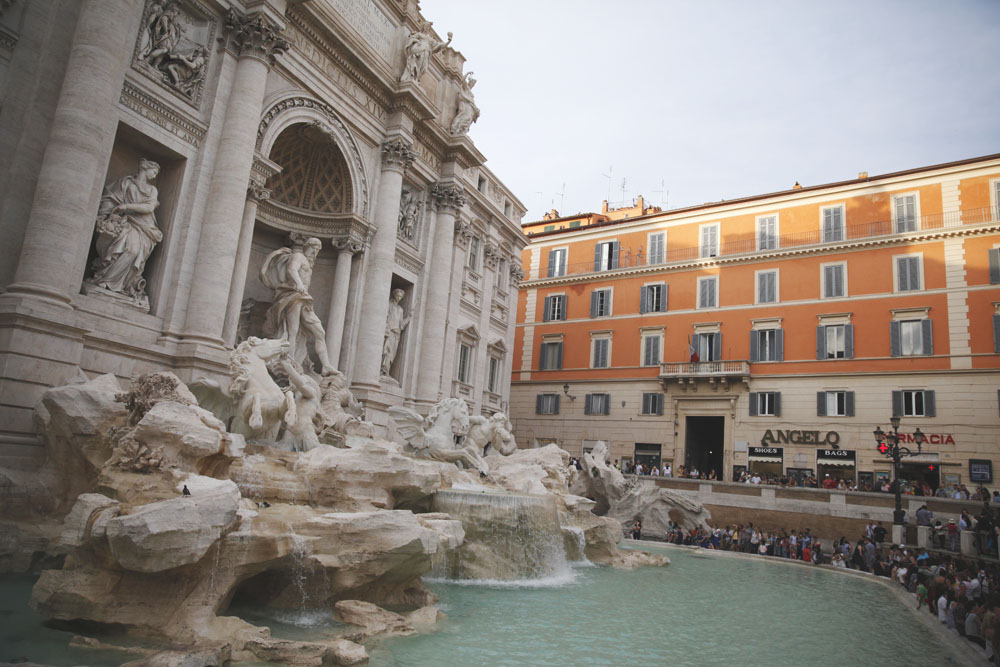 Then, with a few glasses of cold wine under our belt, we thought we had all the time in the world. Mistake. We hadn't seen the Trevi fountain in years–it was under construction the entire time we were here last. And, it's beautiful. I mean, look at it! So a quick detour to see it and then we'll get back to Roma Termini in time for our train, right?! Wrong. It was jam-packed, I mean jam-packed (I really am so curious what the Italians–more specifically the Romans–think about their city being so overrun by tourists in the summer months particularly. I imagine it's a complicated answer.) So our sights of the Trevi were fleeting before we took off for a taxi. But wait! A bathroom break at a nearby McDonalds first.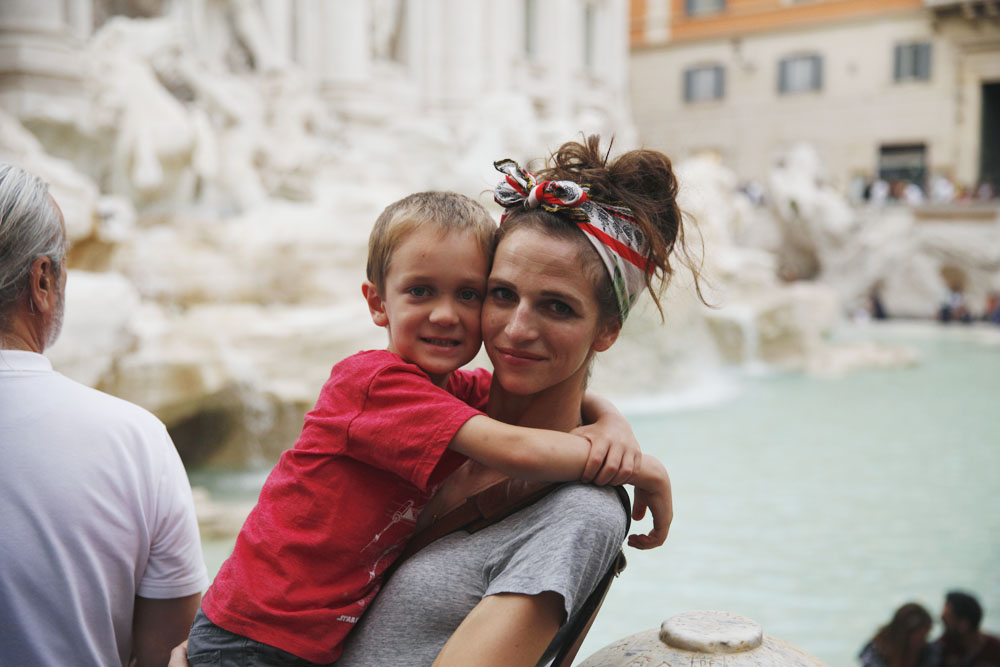 Racing off to Termini, with some traffic, and a quick, "There's the Colosseum!" (Always another pretty magnificent thing to pass, no matter how many times) and we were two minutes late for our train. Which meant the next one with an arrival time of 11:15 PM in Orvieto. We had to laugh, the whole thing was absurd. Trying to scramble to get tickets, a flurry of, "We're not going to make it!" and then an admission that we had some time to kill at Roma Termini (that perhaps could've been spent meandering past Trevi Fountain instead–oh well).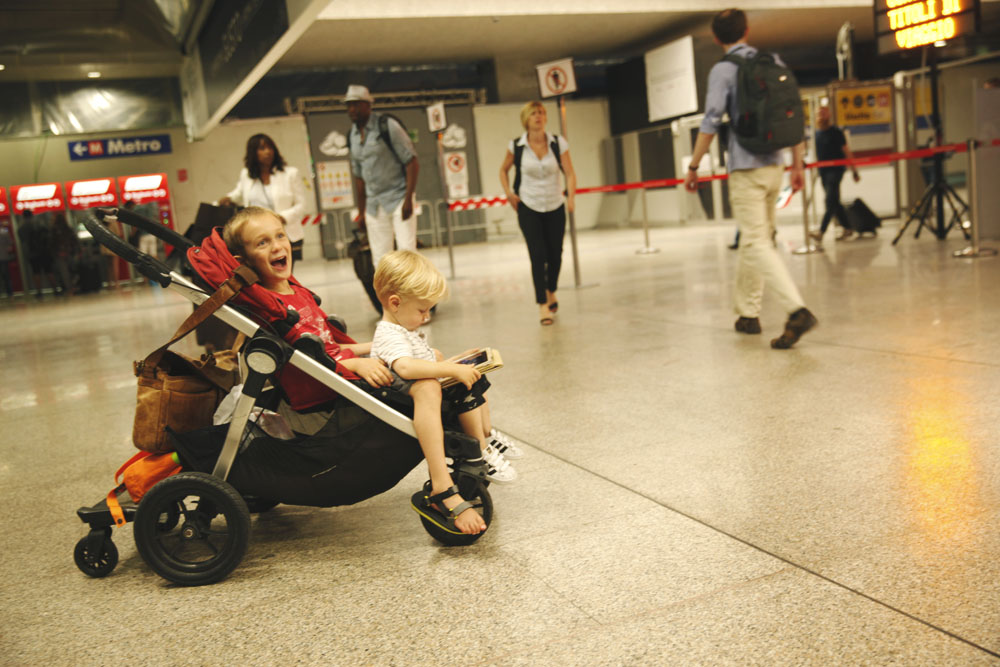 Troopers, these two. Also, that stroller? A workhorse. I've had people email who are taking big European trips and they're wondering, "Do I really need to bring my big stroller? Suffice it to say, I would be a wreck without mine. The storage bag, the recline option, the glider board. I love you, stroller. (It's this one, and we bought this storage bag for it before our last trip. Now, I use the stroller right up to the gate, then take it apart, store it in the bag, and gate check it. It's free. It's also simple to take apart. I was able to do it myself, flying alone to Italy, with both boys. Takes under a minute. Same with putting it back together. I love a good and simple design.)
P.S. Rome tips!
Outfit details: I bought this skirt from ASOS long ago, and I'm linking to a few like it–some with pockets and also jersey material. Why? Because it's probably been my most tried and true piece of travel attire ever. I wore it so much the last trip, and now this trip too. It washes and dries so easily, and can be thrown jumbled up into a bag and worn straight out of it. Forgiving with stains and when you're sitting on the street or eating drippy pieces of pizza with little kids, you're bound to have some. I've worn it with heels and also, as shown, Birks. Over some J.Crew cotton shirts and I still feel sort of put together while traveling. Highly suggest! If none of the below strike your fancy, just use the search terms "jersey midi skirt" to find others like it.
[show_shopthepost_widget id="2714739″]