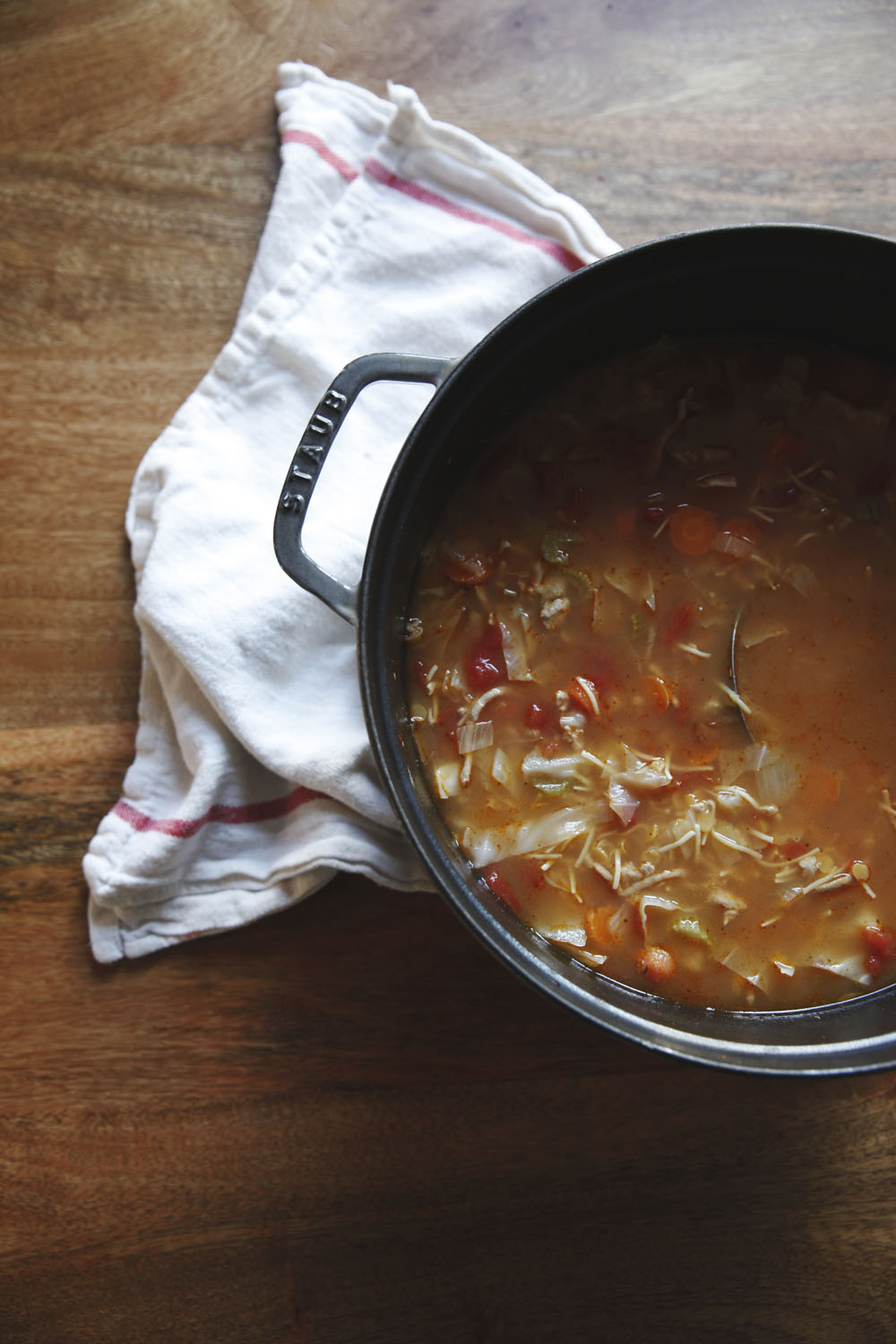 I asked a few weeks back on IG stories for any Q&A type questions, and the vast majority were, "how are the older kids?" So here's that post that will evolve into the sharing of one of my clutch weeknight soups. Kids and soup, soup and kids–two of the most significant parts of my life, probably. The kids are doing really well. They're 24 (!!), 22, 16, and 15 (enter: throwback). Nathaniel's got a real job and is living in an apartment not too far from here with a great friend of his. We have them here for dinner about once a month, and one of those times they came, they brought all the ingredients, and made us homemade meatballs and spaghetti. Do you know how awesome it is getting a homemade meal from one of your adult kids? Really awesome. It was delicious and we have such a nice time with them (laughed heartily through a few rounds of Balderdash too). Jordan is in his senior year of college, is really smart, and is probably going to be making a lot of money one day. He also just took a spring break in Cuba. I'm jealous. William is in his junior year, has his license now, and is working his butt off on the lacrosse team. Finally, Lindsey is in her freshman year, taking tons of advanced classes and is already prepping next year's schedule. She's on the softball team and is working a part-time job too. Parker and Anders, you already know, are tootin' around the house wearing Batman costumes and watching Octonauts.
Everyone is doing well and, as I reread that to myself, it all sounds very shiny and neat. So, let me say there's plenty of drama and fighting and heartache and stress as our kids grow, stretch their wings, learn that unique teen dynamic of straddling childhood and adulthood simultaneously. There's not a more complicated season of parenthood than the teenage and young adulthood years, really, but it's also when their stories aren't mine to tell, and so, there's very little of them on this blog. (Add to that, they're busy! I see them as they run in from school, off to practice, up to shower, homework, etc. You get the idea.) We almost always manage to eat dinner together on weeknights, and that is important time. So, things are good, they are good, we are good.
Speaking of eating dinner together (see? I told you I'd get there.) one of my favorite dinners for those nights when it's 5 and you didn't defrost any meat yet is Giada's Lentil Soup. It's my clutch dinner. What are yours? This one is hearty enough that it fills you up with or without meat, is insanely inexpensive (lentils!), and doesn't require a ton of cook time so you really can do it at around 6 for a 7:00 dinner. The one pictured has a few changes I made (adding cabbage, ground chicken, and egg noodles), that I will include here, but the original can be found here, just as Giada intended it.
Giada's Lentil Soup
2 tablespoons olive oil, plus extra for drizzling
1 medium onion, chopped
1/2 head of cabbage, chopped
2 carrots, peeled and chopped
2 celery stalks, chopped
2 garlic cloves, chopped
Salt and freshly ground black pepper
1 (14 1/2-ounce) can diced tomatoes
1 pound lentils (approximately 1 1/4 cups)
1 lb. ground chicken
11 cups low-salt chicken broth
4 to 6 fresh thyme sprigs
2/3 cup dried elbow pasta (I use egg noodles–the fine ones are my favorite.)
1 cup shredded Parmesan
Heat the oil in a heavy large pot over medium heat. Add the onion, carrots, and celery. Add the garlic, salt, and pepper and saute until all the vegetables are tender, about 5 to 8 minutes. Add the tomatoes with their juices. Simmer until the juices evaporate a little and the tomatoes break down, stirring occasionally, about 8 minutes. Add your chopped cabbage, if using, here. Add the lentils and mix to coat. Add the broth and stir. Add the thyme sprigs. Bring to a boil over high heat. Cover and simmer over low heat until the lentils are almost tender, about 30 minutes.
Stir in the pasta. Simmer until the pasta is tender but still firm to the bite, about 8 minutes. Season with salt and pepper, to taste.
Ladle the soup into bowls. Sprinkle with the Parmesan, drizzle with olive oil, and serve.