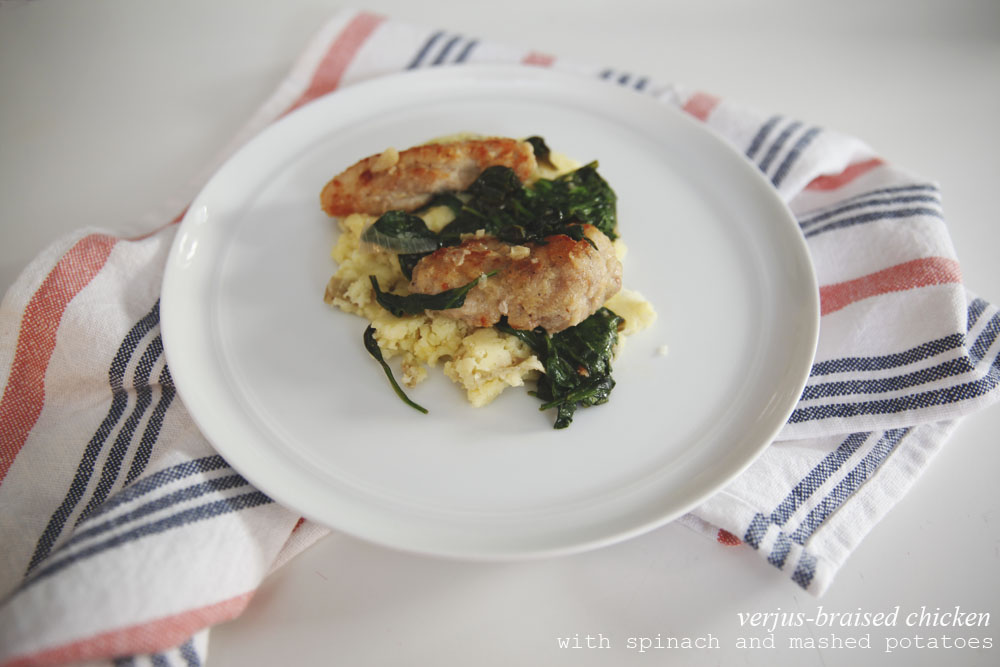 I love to cook a good meal but sometimes lack the creativity to come up with what that meal will be. Enter Blue Apron. I love that they take the guesswork out, and that I invariably end up learning something new. For instance, now when I pass that leafy bok choy at the grocery store, I know what it tastes like. And oven-baked fries are now a standard alongside our burgers. Those were both a part of past Blue Apron meals. Plus, remove the trip to the grocery store? Where do I sign up?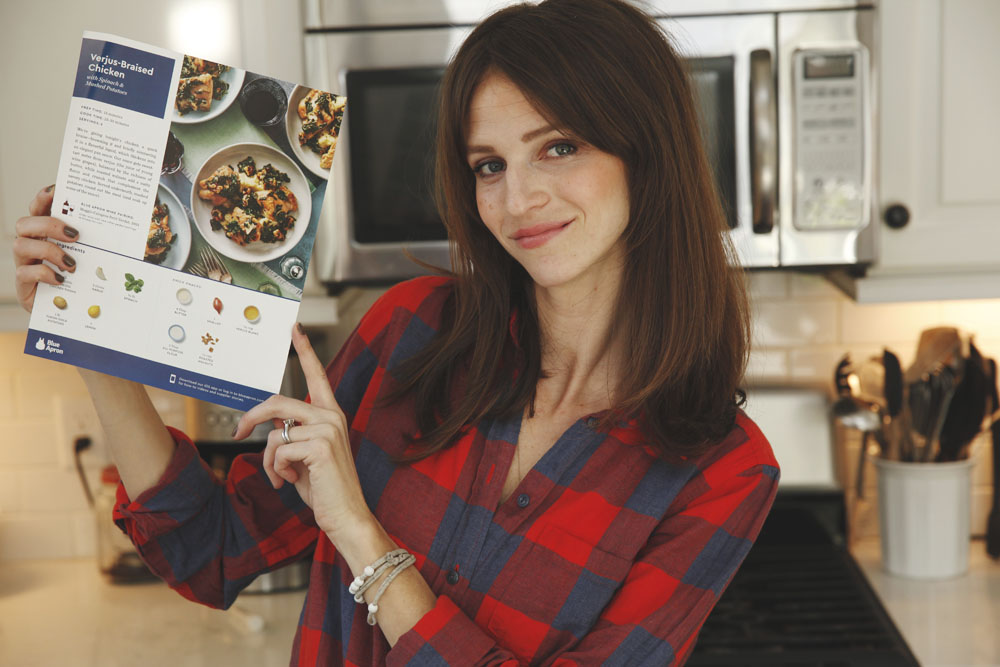 Here I am doing my best Vanna White and holding the recipe card (I love that it's got pictures. Cookbooks without pictures are not really cookbooks in my opinion. They're just blindfolding you and sending you to the wolves.) See all of their recipes here. They're awesome. (See the broccoli-cheddar grilled cheese sandwiches with fingerling potatoes? Mmm.)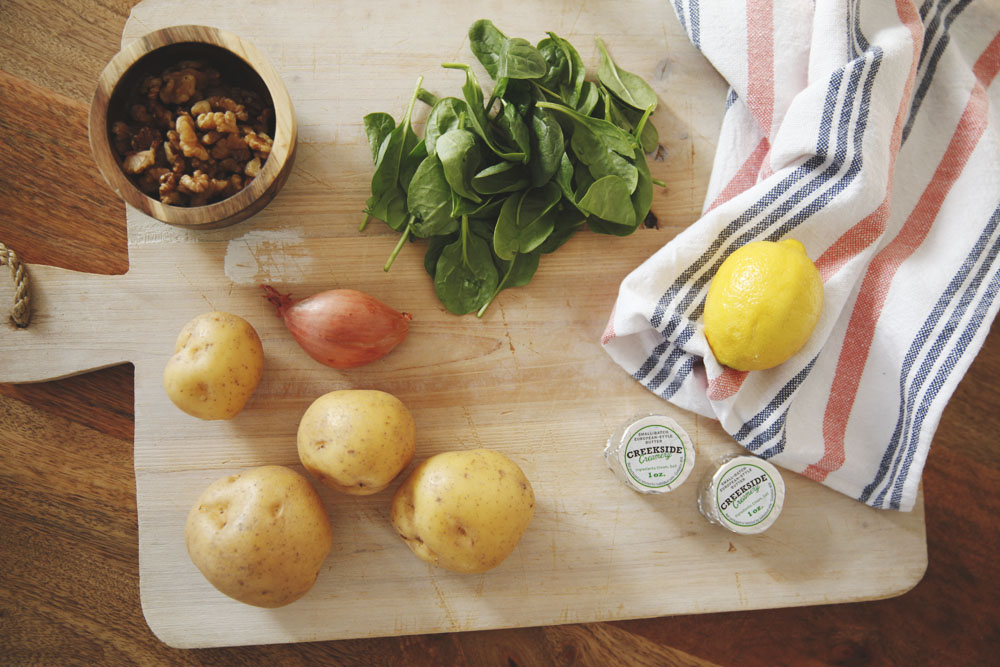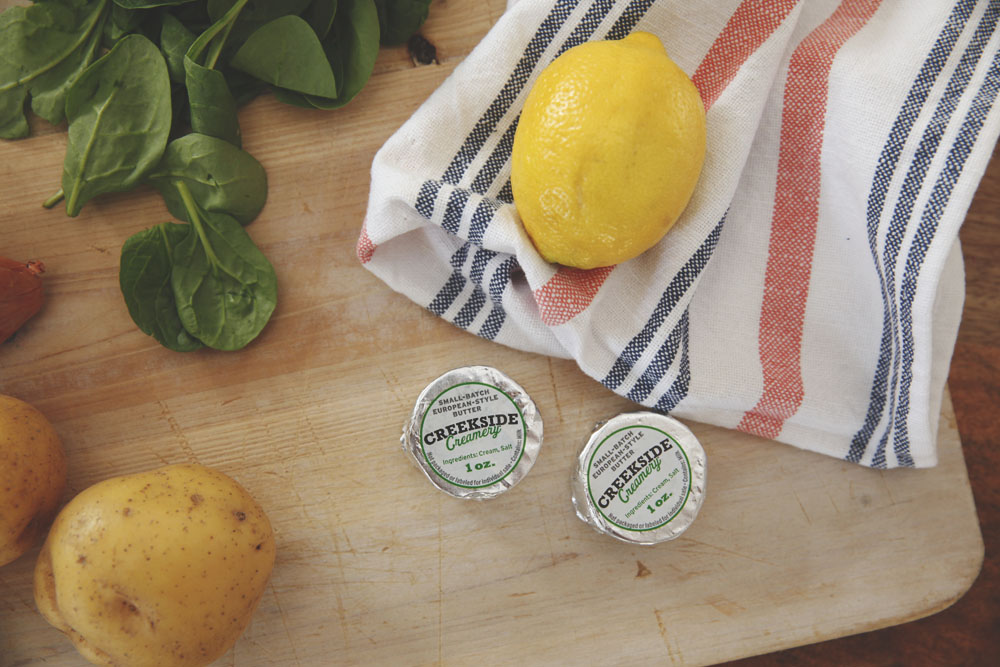 Just in case you're unfamiliar with Blue Apron, they're a meal subscription service that delivers all the ingredients you need for a meal right to your doorstep in exactly the right proportions for roughly $8/pp. And it's all really fresh and from scratch. Plus, their meat has no added hormones, which I love.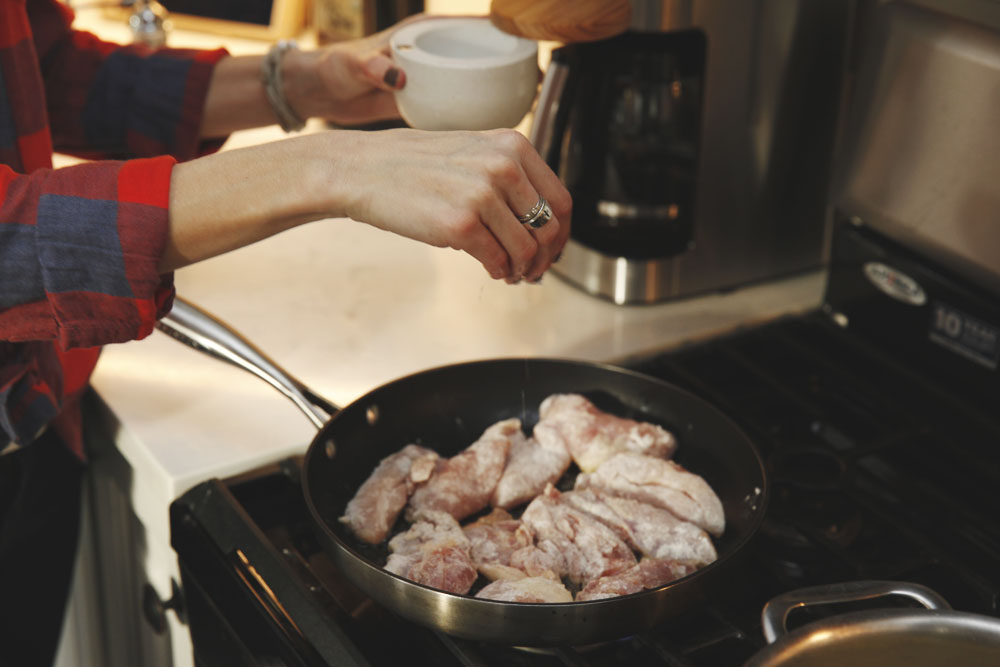 I chose a verjus-braised chicken with spinach and mashed potatoes and it was delicious. The chicken was lightly fried, and then there was this delicious sauce put over it all. Look how pretty that spinach is.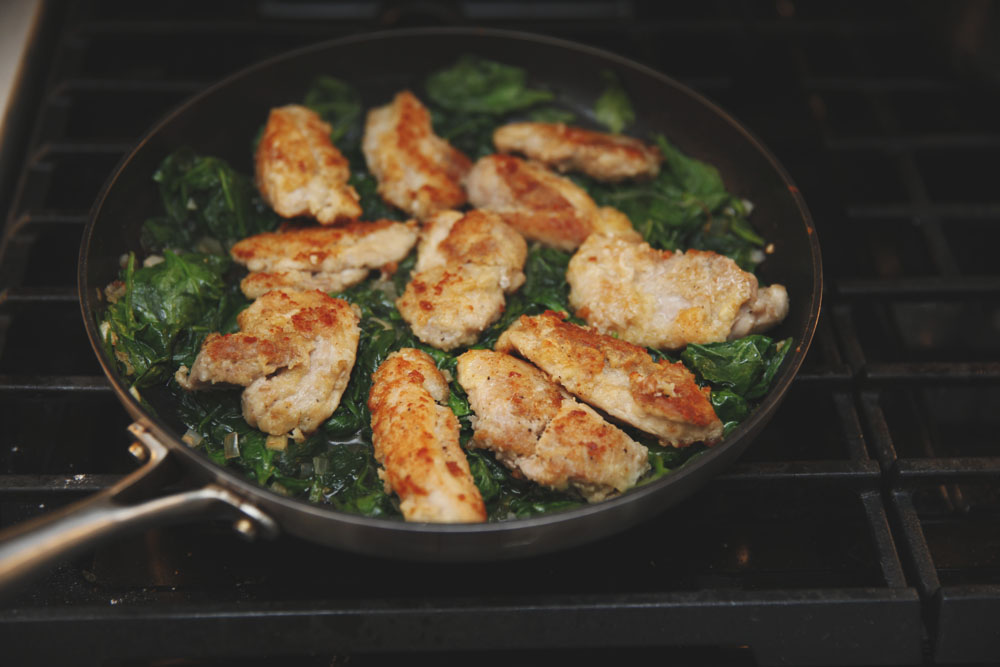 P.S. This pan (toxic-free and still nonstick!) from their marketplace is put to use multiple times a day (seriously) in our house.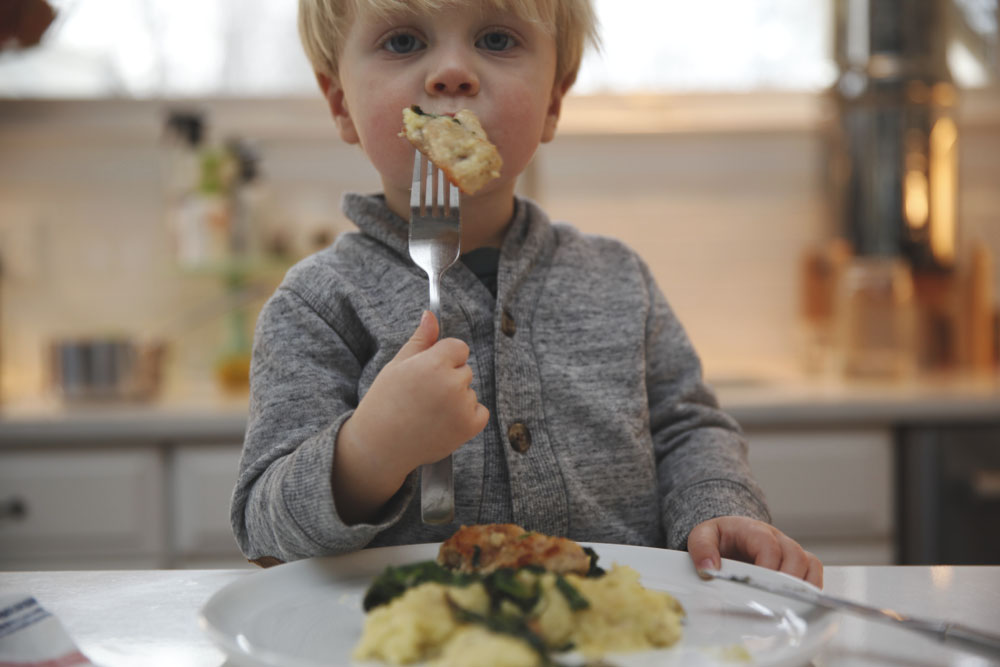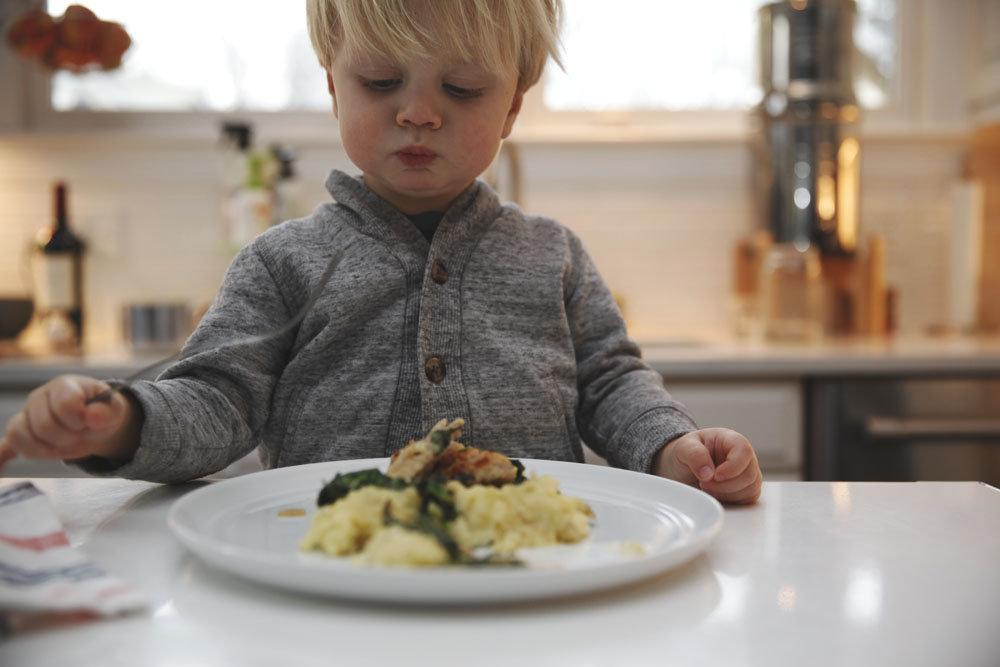 Anders approves! He also wants me to tell you that the first 25 readers will get three free meals on their Blue Apron order by clicking here.
Verjus-Braised Chicken with Spinach and Mashed Potatoes
12 Boneless, Skinless Chicken Thighs
2 Cloves Garlic
1 Lemon
1 Pound Yukon Gold Potatoes
¾ Pound Spinach
4 Tablespoons Butter
3 Tablespoons All-Purpose Flour
1 Shallot
½ Cup Roasted Walnuts
¼ Cup Verjus Blanc
Wash and dry the fresh produce. Heat a medium pot of salted water to boiling on high. Peel and medium dice the potatoes. Roughly chop the spinach. Peel and thinly slice the shallot. Peel and thinly slice the garlic. Quarter and deseed the lemon. Roughly chop the walnuts.
Place the flour on a plate. Pat the chicken dry with paper towels; season with salt and pepper on both sides. Thoroughly coat the seasoned chicken in the flour (tapping off any excess). Transfer to a separate plate. In a large pan (nonstick, if you have one), heat 2 tablespoons of olive oil on medium-high until hot. Working in 2 batches, add the coated chicken and cook 4 to 5 minutes per side, or until browned and cooked through. Leaving any browned bits (or fond) in the pan, transfer to a plate.
While the chicken cooks, add the potatoes to the pot of boiling water. Cook 13 to 15 minutes, or until tender when pierced with a fork. Turn off the heat. Drain thoroughly and return to the pot. Add half the butter; season with salt and pepper. Using a fork, mash to your desired consistency. Season with salt and pepper to taste. Set aside in a warm place.
Add the spinach, shallot and garlic to the pan of reserved fond; season with salt and pepper. (If the pan seems dry, add a drizzle of olive oil.) Cook on medium-high, stirring constantly, 1 to 2 minutes, or until fragrant and the spinach has wilted.
Add the cooked chicken, verjus and ¼ cup of water to the pan; season with salt and pepper. Cook, stirring occasionally and spooning the sauce over the chicken, 2 to 3 minutes, or until the liquid is slightly reduced in volume. Add the remaining butter and the juice of 2 lemon wedges. Cook, stirring occasionally and spooning the sauce over the chicken, 1 to 2 minutes, or until thoroughly combined and the chicken is coated. Turn off the heat. Stir in the walnuts and the juice of the remaining lemon wedges. Season with salt and pepper to taste.
Divide the mashed potatoes between 4 dishes. Top with the finished chicken and sauce. Enjoy!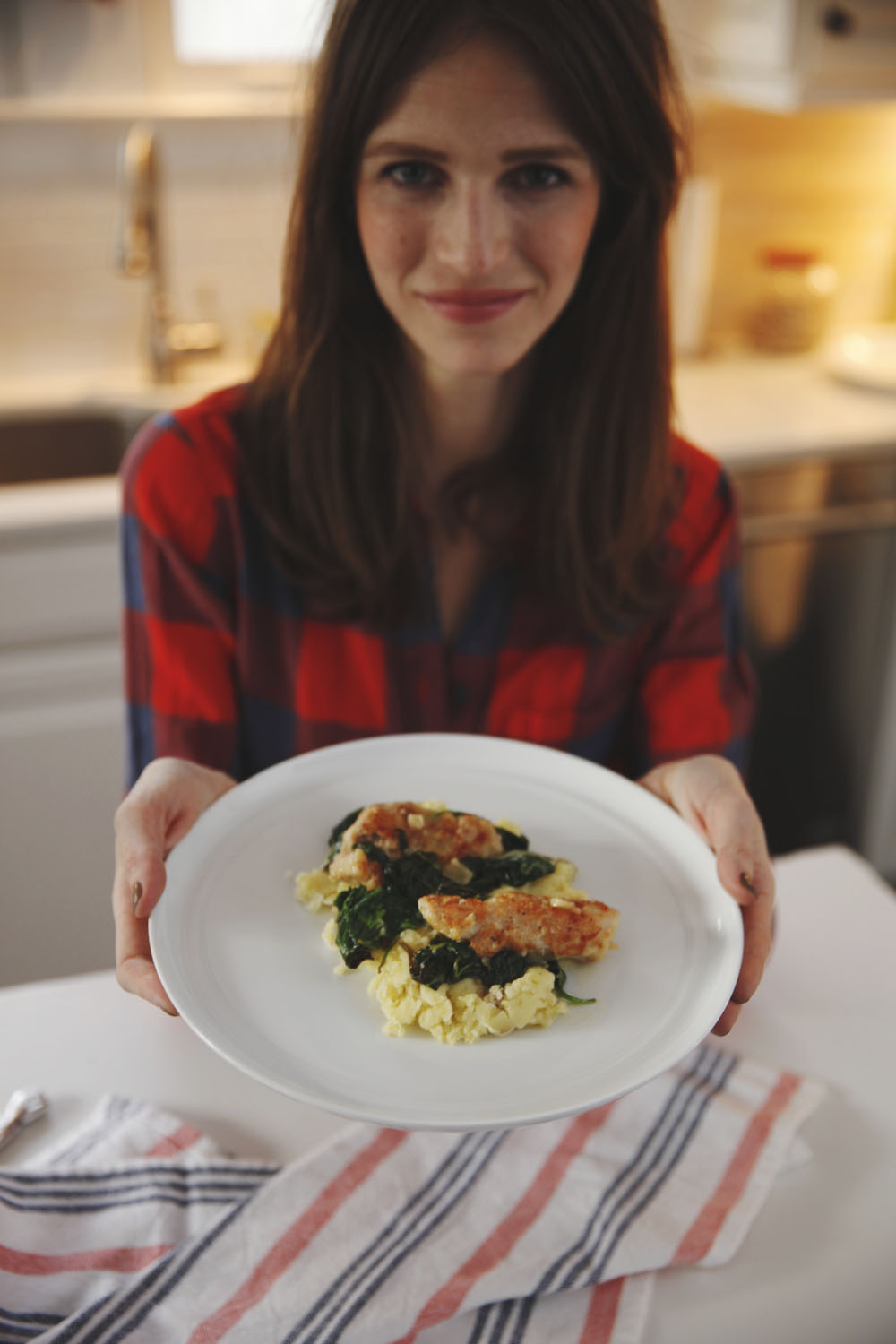 This post is sponsored by Blue Apron. Thank you for reading and supporting this blog!