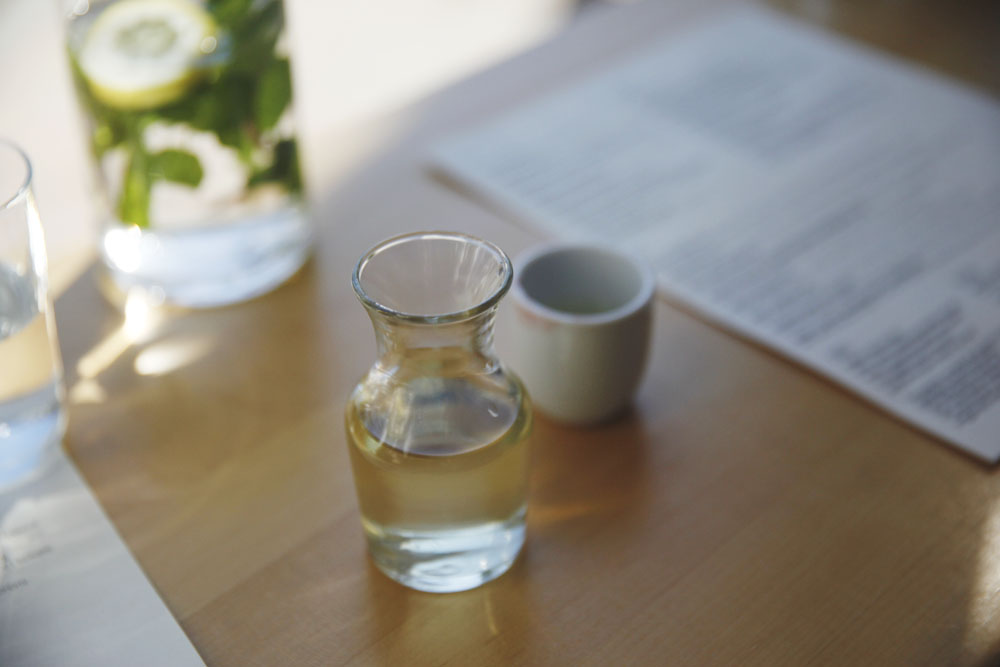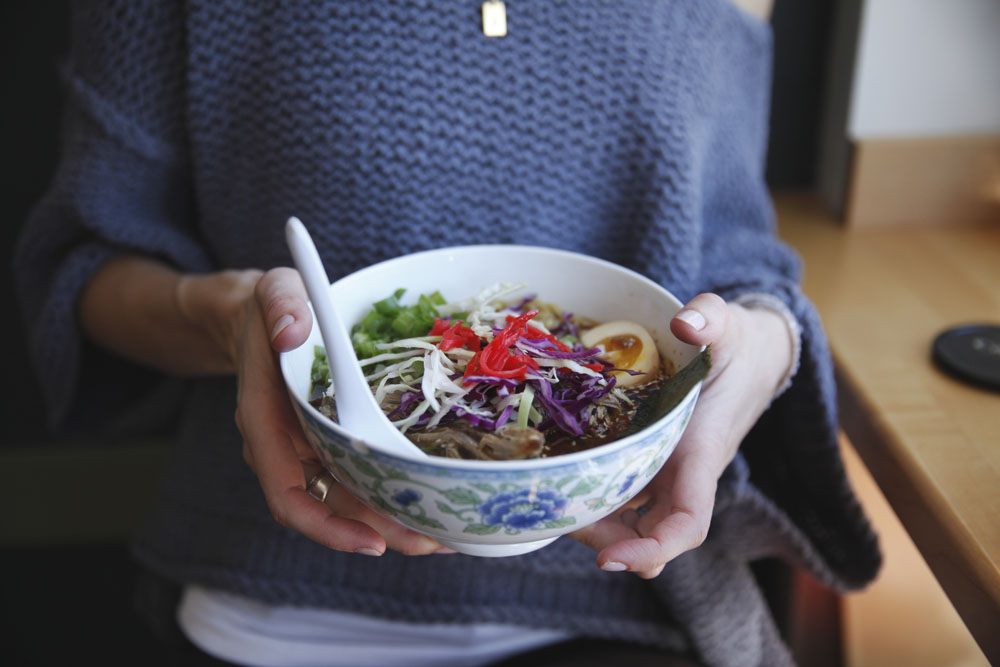 The day date belongs in a category all its own. It feels like such an intelligent idea. "Aren't we so smart! Shops are open for post-date browsing, we're not falling asleep, and we have ample time to digest our food and libations before going to bed for the night." A Sunday afternoon is practically begging for it. I put Anders down, and off we went, while the day was young.
I'd been wanting to try Anju Noodle Bar in Kittery for a long time. Arriving quarter past noon, when they open, it was already almost completely full. A good sign. I couldn't help but look at everything the table next to us ordered–steamed buns, a pork ramen bowl, chicken wings. I try not to be obvious, but I might as well stick out my hand and introduce myself. We got a table right at the window where, across the street, you can see the Naval Yard. It was a cold, but sunny day. We ordered one of the specials for the buns, spicy and sweet chicken wings that were piping hot when they got to our table, and a shoyu ramen bowl. Sake too.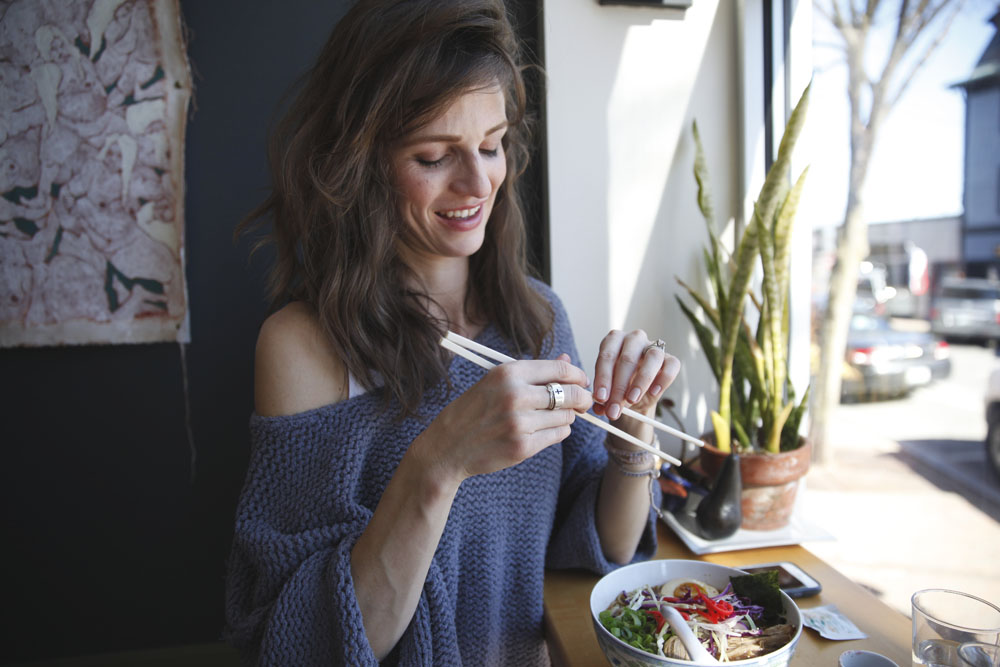 Fairly successful with the chopsticks too, but I think noodles are probably one of the easiest things to eat with them. I'm not sure I'd have much success with other food groups.
Couldn't help but look across at him and be grateful to have such a good man by my side. We had such a good weekend together. We listened to podcasts (just getting into them for the first time and, so far, loving it!) together while folding laundry, watched Allied (I know it didn't get great reviews, but we both really liked it), and had this date to cap it off. Young children can suck the romance right out of a marriage, but it's so nice to be dating more than we have for the last several years. Love you, Steve.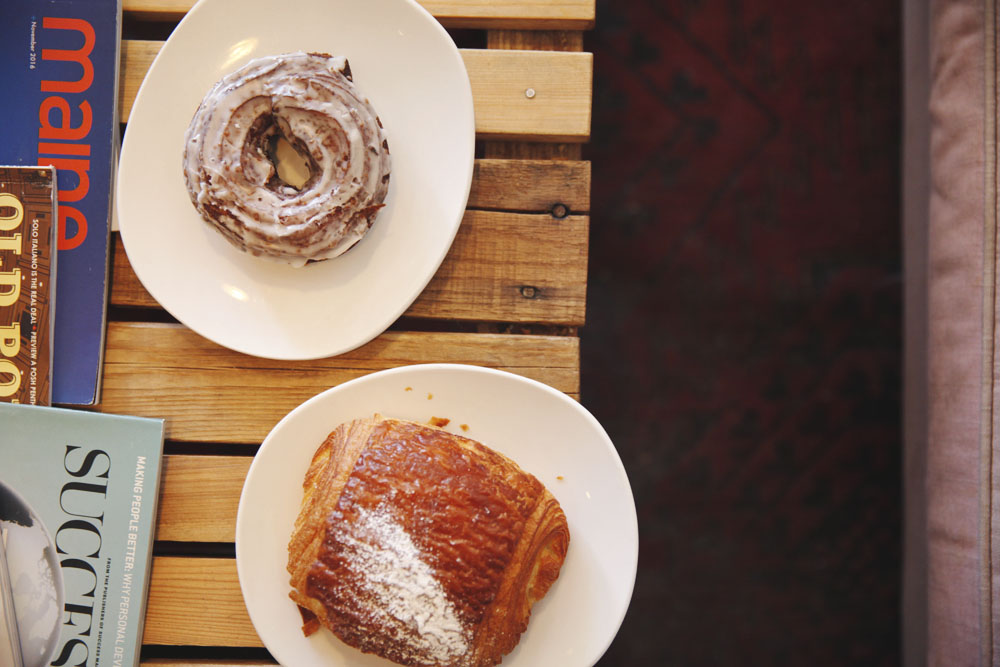 Oh, and it was somewhat serendipitous that I realized Lil's was right next door. After a friend of mine recently brought their crullers to the moms at the kids' swim lesson, I've been trying to conjure up exactly how that spongy, airy bit of dough melted in my mouth that day, and really wanting another. So, we paid our bill at Anju and headed down for a coffee and something sweet before heading home. If you're in the area, both of these are worth passing through.
{sweater (a new favorite): Nordstrom}