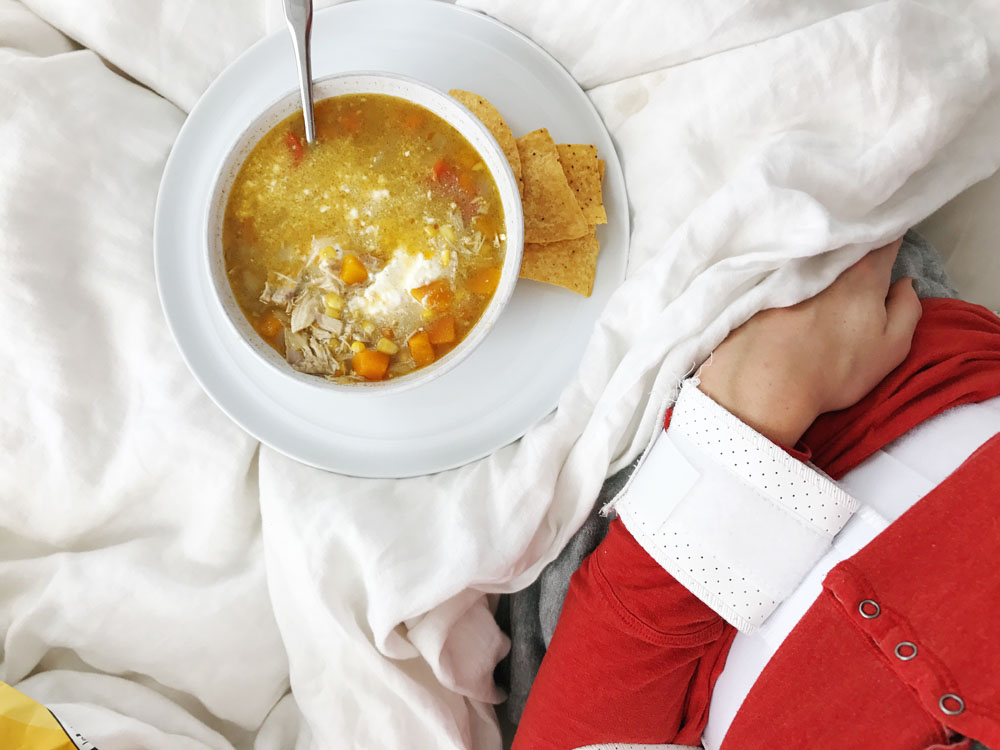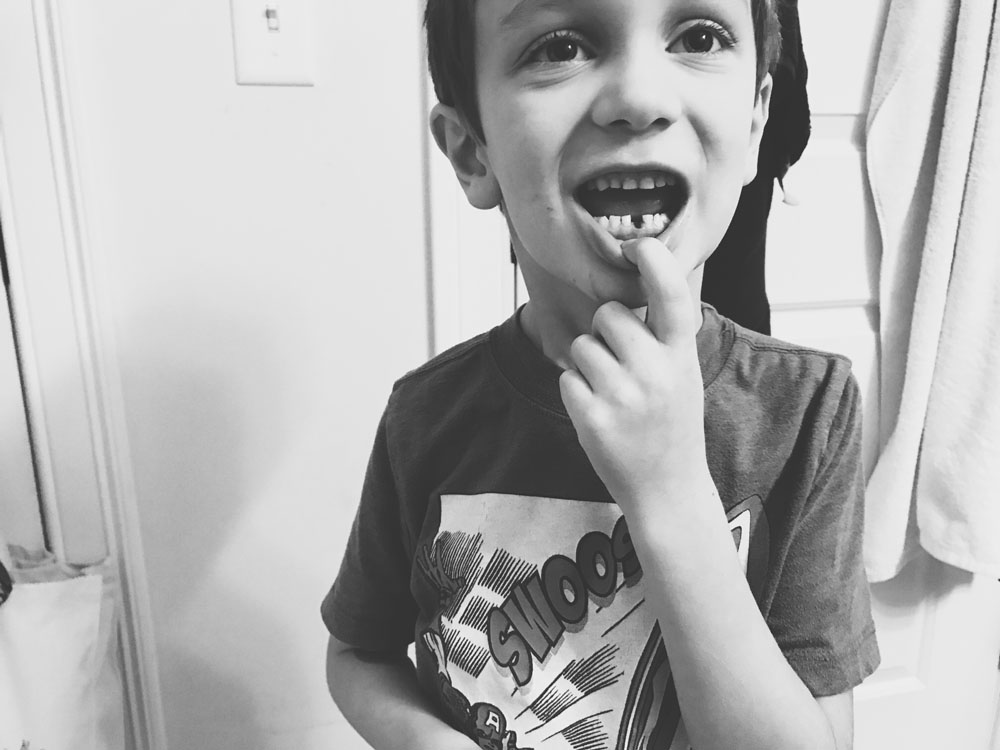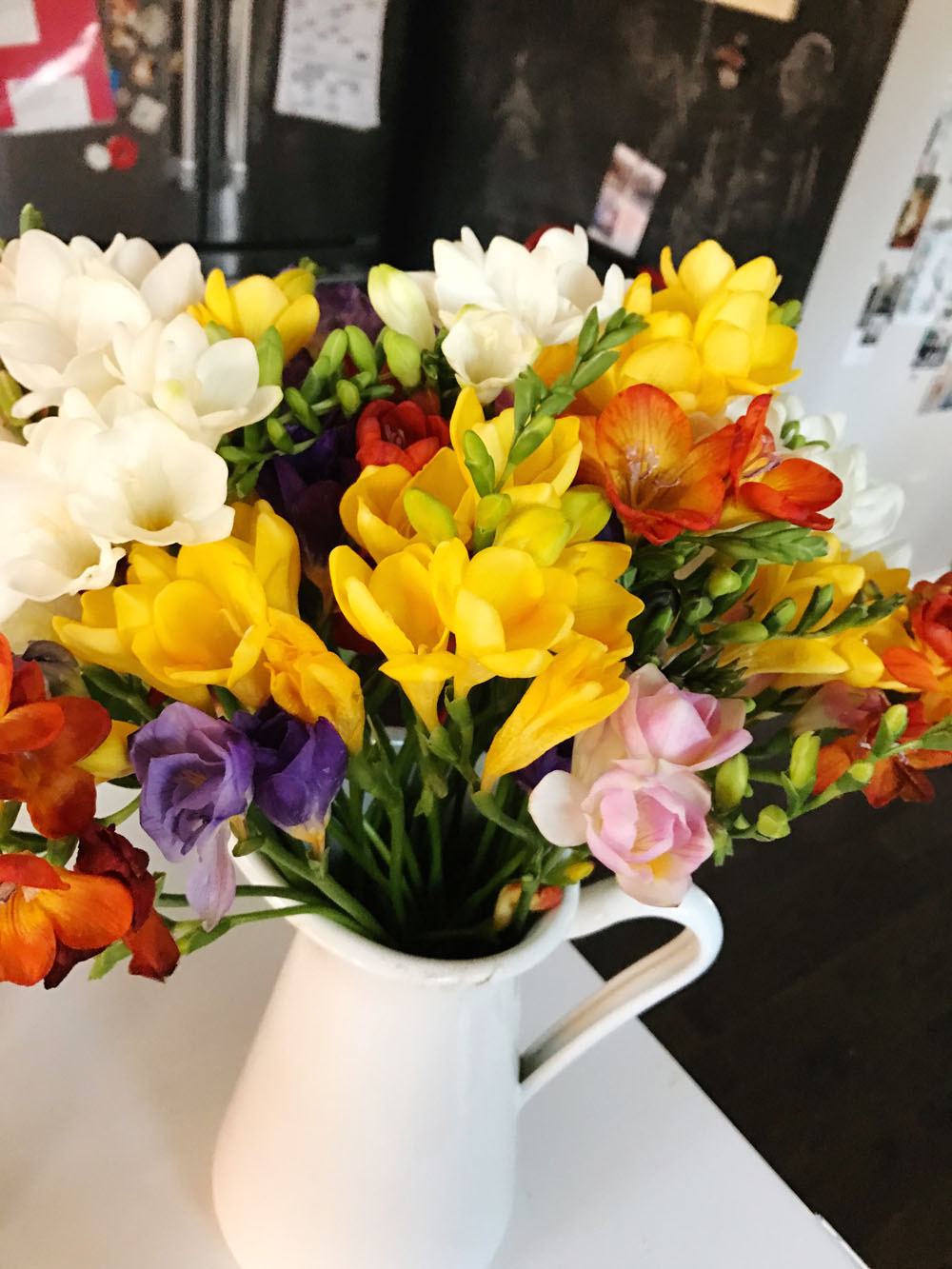 A strange week that's felt more like two or three. Being cooped up in the wintertime has created something of a time warp, moving slower, sometimes faster, but mostly slower like the freezing of ice on a lake. Are we there yet? Is it ready yet? Is the four weeks of a frustrating one-armed life over yet? No, but week one is.
I broke my arm while ice skating which is not news for those of you who follow along on Instagram. I'd like to consider myself something of a hero, the only reason the fall took out my humerus bone, is that I was saving Anders from getting hurt in the mayhem–but really I'm something of an idiot. Skating around like some sort of pro while holding your two year old is dumb. (They did have those supports for little kids but Anders wanted none of that, no, he preferred to ride something as a king, hovering a few inches over the ice, never really utilizing the skate at all, but more utilizing my lower back muscles.) I did it successfully for roughly thirty minutes which was generous already. Should've quit while I was ahead. But anyhow, Anders giggled through the fall while I slow-motion mouthed-in-my-head, "Oh fuuuuuuudge." But not fudge. It hurt and I knew I'd done something I should not have. So here we are. One armed for four (to six, but I'm rounding down and saying three) weeks. Trying desperately to put my hair up which, oddly enough, is one of the things I wish I could do the most. Or shave my armpit. I can change a dirty diaper impressively efficiently with my left foot and my right hand though.
Steve's been something of a saint, bringing me food in bed and getting kids dressed, and buckled in car seats and cutting vegetables or opening cans of beans for a chili. Much of his own work–of which he had plenty–has been put to rest since I broke my arm. I'm grateful he was home at all, though. Lindsey has done baskets of laundry-folding of which I'm ever so grateful. We'd have been rummaging through clean, wrinkled clothes for weeks otherwise. And friends! Oh friends! We've had meals delivered almost every night this week, packages left on the doorstep, texts checking in. Chicken enchiladas with fresh salsa verde, chicken pot pies, and broccoli soup. Flowers delivered from far away friends. I mean, my goodness, how the spirits can be bolstered by the kindness of others. I think, daily at this point, how grateful I am for the strong and wonderful women in my life. Tender mercies they've shown me in an otherwise dreary time. I've got a growing list of thank you notes to write, and I keep scribbling on the paper, the list growing each day.
Taking a week off of blogging, I filled several hours with Call the Midwife. I suppose I could've filled my time learning Italian, or reading The Road Less Travelled, but… I didn't. I'm enjoying it so much, and am so surprised how truly newborn the babies are in it. Some of the episodes have gone straight to my heart, of course, especially the one about the mother who's son is marrying a well-to-do American girl and she feels like she's losing him. Ache! And Chummy, could she be any more likeable? She reminds me of Meryl Streep playing Julia Child in Julie and Julia. Right?! I'm in the beginning of season 3 and I feel like the rug's going to be pulled out from under me. No spoilers, please! I'm also reading Silence–a book I skimmed, at best, almost 13 years ago. I'm determined to read it (if I could just look away from Call the Midwife during my quiet hours long enough) before seeing the movie.