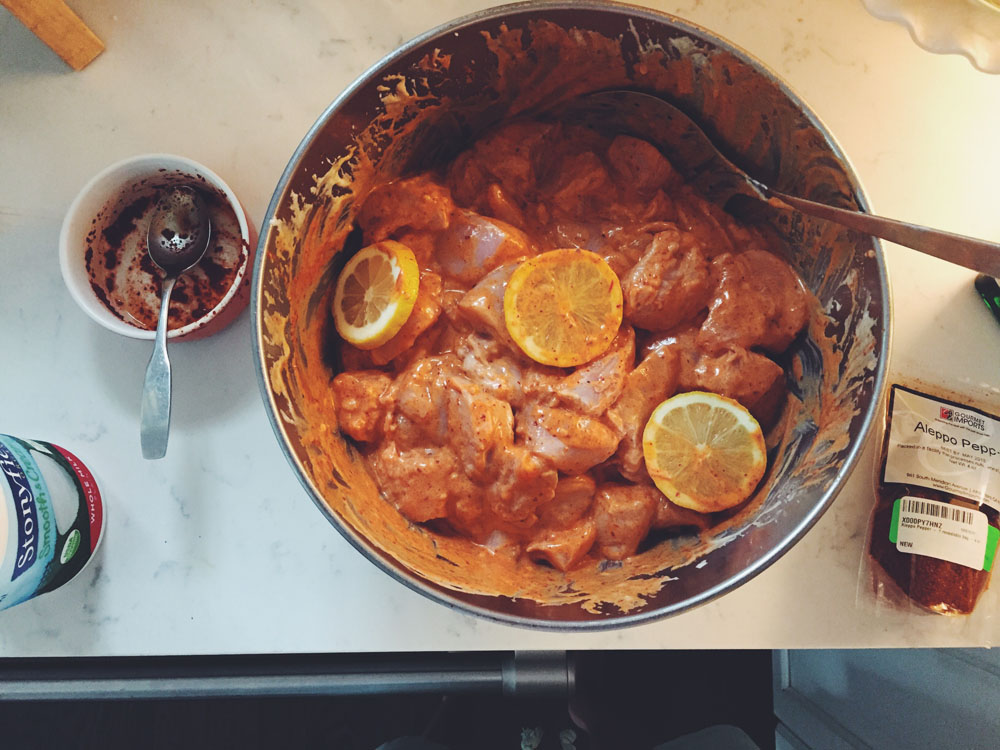 I sit down here to write lately, a more meaty post–which are really my favorite types–and I stare at the screen. Click over to Amazon, to other favorite reads. I'm interrupted no less than four times in the span of five minutes. The last two: I'm watching Anders, with oatmeal on his hand, pet Josh (Josh, my sister's boxer) and now Josh keeps going under my outstretched legs, rubbing oatmeal onto me. Awesome.
The state of the world has me sorely depressed. I said to Steve the other day, "I don't want to be numb, but I also can't feel every single thing." Steve remembers a day (and I sort of do too) when flags were at half-mast and everyone paused. Something big happened, and you knew what it was. Now, it seems, they're at half-mast more than they're not and half of the time I have to ask myself, "Now which sad event is responsible this time?" And then I've got these kids running around, learning to moo like a cow, talking about how Spiderman is cooler than Captain America. One who is dying to be grown up and have her own kitchen (no, Lindsey! Stay young!) even. Oh to be blissfully unaware. As I write this they're stomping in puddles that Parker made in the driveway with the hose. One in a diaper only and the other in a Jedi shirt and underwear. Giggles abound. I love the sight.
We had friends over for dinner the other night. I like to whip out a new flavor, a new twist on an old classic when we have company. It has to be something I've tried in the presence of no company however. The past few summers, it was always these pork burgers with slaw. And while I still love those, I'm dipping my toes into the world of kebabs with these Middle Eastern Aleppo pepper kebabs. As it turns out, when you marinate chicken in yogurt all day (pictured above), it's really, really good and moist which is the only way I want my chicken. Shout out (again) to my friend Gail who's the first to serve me this, among many fine meals (like those pork burgers, coincidentally), that I have happily adopted into my own repertoire. For the presentation, I do remove the pieces from the skewers and serve it in a big dish–plus, my friend's twist, which is Greek yogurt with paprika and salt, mixed up and served along side dollop-style. It cuts the heat of the pepper, which is really not that intense to begin with. I am a spicy-foods-wuss and I can handle it, though I do reserve a few pieces for the kids that don't get marinated in anything but some olive oil, balsamic vinegar, and salt, as it might be a bit much for young tastebuds. Tell me if you make it. It would go well with a spinach salad like this one that I made a variation of that same night. Also, if you can't find Aleppo pepper (I didn't even bother trying), you can get it here like I did.
I'm still reading Into Thin Air despite my snaps which suggest that I never put it down. In reality, I have to stop all the time to, you know, take care of things. It's wholly exciting and depressing and I am nearly finished but still wonder to myself, "How did it really all happen that way?" These were men who knew what they were doing! Who'd done it before! And Everest still won.
The Nordstrom sale is almost here and I'm putting my credit card someplace really, really high while clearing my computer of saved numbers (and apparently also hiding any ladders or stools in the house?) so that I can't shop it. (Or, perhaps, just exhibiting some self control would be easier.) But if I were, this bra, which I own, is so great. Like, really comfortable and works perfectly with tees. Maybe I'll buy another (Whoosh! That was my self control going out the window.). I'm definitely buying this spray too. (Just kidding. Who really buys that? Who?)
I'm going to watch The Fundamentals of Caring soon. My friend Megan said it's her favorite movie in awhile and I have Netflix and absolutely love Paul Rudd so it's an easy yes. It looks good too. Totally impressed with Netflix putting out all these quality movies and TV shows on their own. It's a brave new world.