really delicious tacos we got out at a waterfront concert with friends – and from a food truck no less!
digging on the jersey shore (we're going way back here)…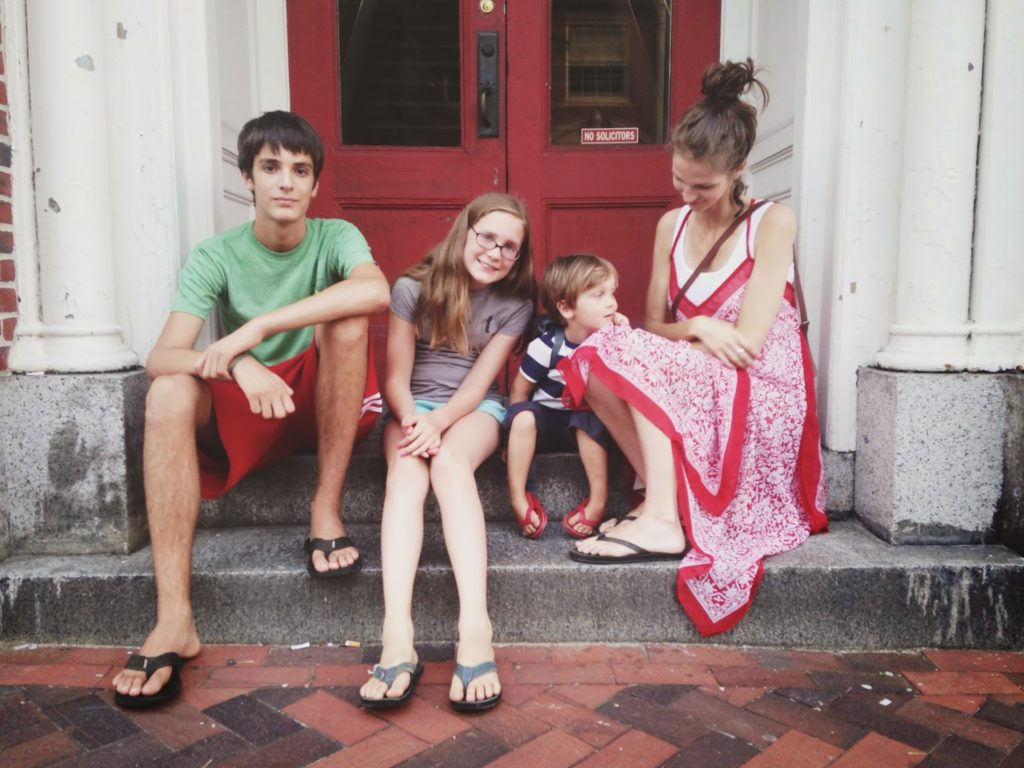 a pretty backyard dinner at my sister's. she knows how to throw a party.
out for our favorite pizza with steve's mom and dad (early july! before the move which feels like ages ago!)
i want this car.
he likes to accessorize.
and more pizza. we like pizza.
william and lindsey ran a mile last week and it was SO MUCH FUN to stand at the finish and watch for them. seriously. brought me back. i love running. (i mean, in theory.)
parker and one of his oldest friends lux.
i feel like i'm trying to cover way too much ground with this lately post. there's just too much to share (that i haven't shared) over the last month before our heads were out of the clouds so, i'm throwing it all into this here post. bear with me.
today it's pouring rain and has been since the moment i woke up. which is actually kind of nice–keeps us all inside and cozy (lindsey's making us tea right now!). i'm going to read some stories to parker as soon as i'm done here and under a big blanket too. i took william, lindsey, and parker to a movie today (his first!). planes 2. it was pretty cute and not too scary for the timid guy he is. william and lindsey liked it too and were excited to go which is a double (triple?) bonus. we shared a bucket of popcorn. i cannot go to the theatre and not get popcorn. literally. a place where i actually mean literally when i say it.
i spoke of today and being cozy and it was until our friends' ryan and caroline challenged us in the ALS ice bucket thing (i am pretty sure it happened because of this tweet yesterday–even though ryan and caroline aren't on twitter. this is suspect.). never one to turn down a challenge (jk, i'm not that person at all), steve and i did it while william taped. raining and 60 already, it was ideal to throw a bucket of ice water over your head. being pregnant should automatically disqualify you from such things. i kid. it was fun. have you done it?
we have been going for bike rides almost daily. while i was in dallas, steve rode my bike a few times and was like "this bike is crap. we need a new bike and a new seat for parker." you know why? because it's a cruiser and yes, it is old (i bought it with my own money in 8th grade. i'm almost 30. so, the rusty gal is old. it was one of my proudest moments aside from the doc martens i bought myself in 6th grade.) and doesn't have gears so it's especially hard to bike up any inclines with parker on the back. but yet! i've been doing it a lot this summer and while pregnant so steve's a fool and i am clearly the tougher of the two of us. so with that said, he went out and got one of these (i've been wanting one since our vail bike ride and scouring craigslist for them) and i must say, i do love it. it's so, so fun and i envision packing it with picnic stuff and groceries and the list goes on. i haven't replaced my bike yet (he just replaced his of 24 years… we like our bikes vintage) so one of these days, i might retire the 'ol cruiser.
what else? oh, i started a facebook page for the blog. was that necessary? i don't know. i've always thought NO and that it's JUST ONE MORE THING but i went and did it. i heard a lot of people say they prefer it to twitter. do you? i'll probably share things there from time to time that don't make it here, so maybe it's a nice little outlet (cause i reaaaaaaally need another one). i don't know. we'll see. but if you'd be so kind as to like me there so that my self-esteem doesn't plummet, i'd be grateful.
and that's all for now.