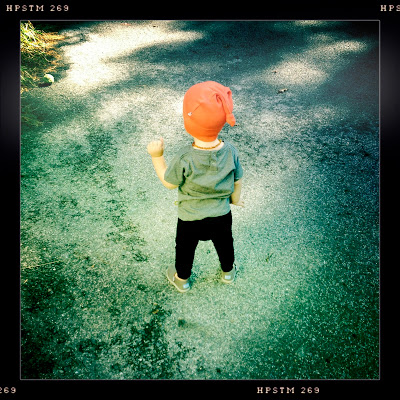 parker man! i call you that and it's becoming truer every day. you're not so baby, you're a little more man. you walk and walk fast, you even tried to run to catch up with some big kids recently (both adorable and heartbreaking all at once!) but you fell a few times–soft ground, no injuries! you slept nearly through the night a couple weeks ago (you read my post, didn't you?). a lot of babies get to this point faster than you are (hear that, p-man?!), but i'm celebrating it anyway. once you came in bed, you nursed a little and then went back to sleep with your arm around my neck and head tucked in the crook of my arm. i laid awake for a bit thinking how gosh darn sweet it was and how i'd like to bottle it up and keep it forever.
we joined a class and damn is it cute watching you run around and discover the place. you do "art" projects, sing songs, play with toys, do bubbles, have snack time. it's an hour, built for you! you love it. you go all around the room discovering things, but every so often come back to where i am with your arms stretched totally open for a hug. then, you run off again. god, i love you!
you say "dada" all the time now which, duh, melts his heart. and it's a good thing because you've become a bit of a mama's boy which can get the poor 'ol dad down a bit. you make all sorts of animal sounds too. you love books, cars, books about cars, and dancing. you love cheesy scrambled eggs, plain yogurt with blueberries, apples, pears, bananas, hummus, black beans, and veggies out of a stew or soup. oh, and the annie's bunnies they serve at snack time in class. you love putting shoes away in the bin (and sometimes taking them out of the bin), and generally making messes. i'm always surprised at how much you know and understand, even though your words are pretty limited. it's really so cool.
my favorite thing these days? probably when you're across the room, spot me, and just start heading towards me with your head tilted back, and arms stretched forward. it's for a hug and it pretty much kills me. sometimes i miss tiny you, but big you is so fun too.
you and me, parker. we're buds. love you forever.