Well, now I've gone and done it. A series! Volume 1 implies there's more volumes to come! It's true. (I hope you're not rolling your eyes right now. Are you??). Bear with me! I know some of you love the homeopathy stuff while others of you could probably care less. It won't be a weekly thing or even a monthly thing. It'll be more of a "whenever there's information good enough to share" sort of thing. This stuff won't be specifically directed towards kids' health but it will certainly be useful there, as well as for the adults.
Why am I doing this? Firstly, it's something I'm crazy passionate about. Secondly, I think there's just not enough information out there about alternative ways to treat things. Ways that are good for you, just as good (and sometimes better) than the standard practices, and ways without some unrelated damage being inflicted (i.e. yeast infections coming after rounds of antibiotics!). Thirdly (and lastly!), I don't want to wait UNTIL illness strikes to run out to the various stores collecting supplies. Parker got his first ear infection while we were up at the lake (and I didn't realize it! For shame!). He also had a pretty high temperature and I couldn't decide whether teething was the woeful source, whether he caught some other bug, whether the lake gave him a disease (naturally!), or… you get the point. (I think roseola was the culprit, but that's beside the point.) I was helpless. I knew fevers were the body's way of fighting things and that there is good in letting them run their course, but yet the number freaked me out and I wanted, of course, to pump him full of Children's Tylenol to bring it down and fast. Maybe if I had done more of my research, had other things on hand… I'd have felt more confident in a decision, any decision, in getting him well.
You get what I'm saying?
So, that's where this idea came about. And a really, really important note: I am not a doctor. I know this, you know this. I don't claim to be. I'm just a woman, a Mom, a wife who's interested in alternative healthcare. With that said, there is a place (this bears repeating: there is a place!) for your normal Western medicine. I am not attempting to do away with it, but just suggest that perhaps we use it too flippantly when something else might be better.
That's it. Won't you come along?

volume 1.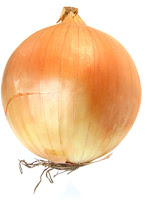 An onion.
Most likely, you have these on hand. When Parker got an ear infection, he was crazy clingy, not himself, and pretty miserable. There is a lot of evidence that both garlic and onion can work well, and fast, at getting rid of ear infections. Once I knew he had one, I started on it immediately and it was gone in two days. I don't know how far into the ear infection we already were, though, so I can't tell you if it was nearing its end with or without the onion, but nevertheless, it seemed to work. My friend Rita (hi Rita!) swears by them for her kids and it totally seemed to work with Parker.
Remove the skin, cut the onion, and chop it very fine or put it in a food processor (that's what I did).
Put a few tablespoons the pulp into a pan and warm it on the stove (not the microwave!) on low. Get it just to lukewarm, put some of the onion juice in a dropper, and put a few drops in infected ear. Massage the ear on the outside. Repeat a few times a day until it goes away. Enjoy the fact that your child (or you?) smells like a sub shop.
And there you have it. An alternative to antibiotics (and seriously consider tapping into some of the research on antibiotics… it gets ugly! Use 'em when you have to — otherwise, skip it!).
So, there's volume 1. Mostly painless?
And please! If you've got a resource or have written about this stuff on your own blog, share it in the comments. I'd love to take a look.