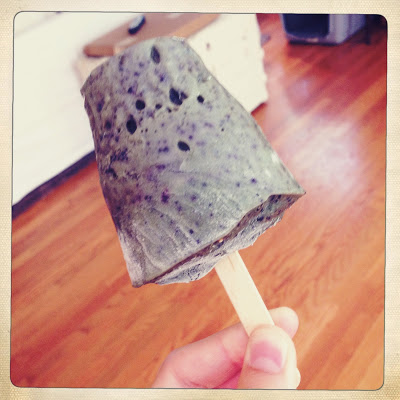 parker's not an exceptionally picky eater but sometimes he's thumbing his nose at food before he's even tasted it. food i know he likes. he'll shake his head no, lurch his body to the opposite side of the incoming spoon, and turn his head nearly backwards. and i know, i KNOW, he likes the offered food. it's not like i'm shoving cans of spinach down his throat (that comes later!)!
then, i throw my hands up, take a popsicle, my popsicle, out of the freezer and drown my baby-food sorrows in it. now he's real interested. what is this frozen concoction my mother eateth?! what is this stick contraption she holdeth whilst doing so?!?? (parker speaks like a true gent.) i'm utterly interested, indeed! i am! please, mother! may i licketh your popsicle?
so, in an effort to get him more interested in food, his food, i decided to whip up a popsicle-for-parker. i make smoothie pops from time to time, but also buy
these ones
(gimme the coconut!), and, as for the latter, i'm not jumping up and down about giving them to him. they're sugary sweet and since he's still experimenting with food and eating very little at times, i ain't doing it. he'd probably eat the whole darn thing all the while side-eyeing me like, "what! you didn't think i could! boom! here's the stick!"
where was i? oh yeah, purple pop for park!
he loved it. a popsicle?! all for meeee?!?? i imagine that's what he's saying, anyway.
what's in this blasted thing? i'll tell you:
half an avocado, small handful of blueberries, handful of spinach, a good splash of coconut milk, and a banana.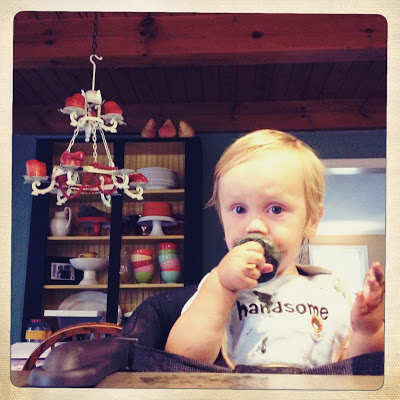 p.s. i usually give it to him in a diaper and let him go to town… a bath is definitely a necessity afterwards.