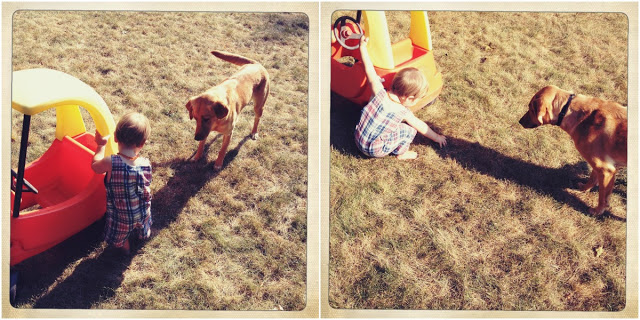 since parker came along, i'm not gonna lie. gracie hasn't
totally
kept her top-dawg status. my mom said it would happen. i believe her now! it was an adjustment, i'd say. for her and for us. she led a pretty cushy life complete with an invitation to cuddle in our bed sometimes. when you co-sleep, the dog's invitation to the bed… well, it doesn't exist. at least not in our house. she still got (and continues to get) lots of love but, like i said, it was an adjustment! she's all, "wait a second.
he
is above
me
?" eyeing parker suspiciously. but, for the most part, she has been a stellar dog to have with a baby around. i mean, you saw
the fetching
(at the end of the video!) didn't you? holy crap, when we discovered that she'd fetch with even him, my love for her grew (even more than it already was). and when he thinks throwing his little bits of carefully inspected, organic, sauteed-with-so-much-love-and-a-little-bit-of-irish-butter cauliflower all over the floor is the bees knees? well, i call gracie over and she cleans up the floor so thoroughly, your kitchen floor is sparkling. sparkling, people!
so, what i mean to say is, thanks gracie. we love ya. parker does too.
(pictures from my phone of parker fetching with gracie yet again. those two! i see 'best buds' in their future, i tell ya!)