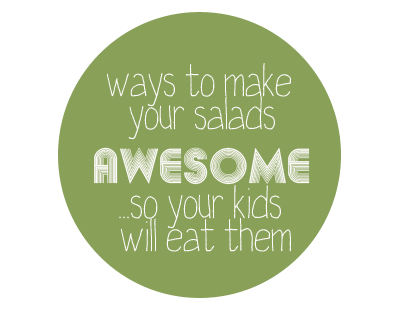 i'm big into salads as the main course in this house. a whopping bowl of salad with lots of stuff really can be called a main course, right? right. luckily (and really, luckily, because i think i'd be driven to insanity otherwise) my kids like their salads. william and lindsey in particular. they will take a huge plate of salad and eat it no problem. i don't always serve it as the main course, but it often comes before the main course. growing up in my home, there was never a spaghetti night (or anything, really) that didn't start with a big salad first. it was to be expected. so, i guess i've inherited that (although, sometimes i'll cheat and skip the salad). my kids have come along, quite graciously, for the ride. i started william and lindsey young on the salad front–three and five–so this probably lends itself to them being so good about eating it. nathaniel and jordan are a little less into the salad (or at least more vocal about it) but they take some anyway.
so, here's my ways to spice up an ordinary salad thus making it a main meal and making it awesome so your kids will like it.

bbq chicken salad: inspired by a cheesecake factory salad, i make this with romaine, spinach, and to make the kids especially happy, a head of chopped up iceberg as well (but not only iceberg cause, let's be honest, there's not much goin' on there in the way of nutrition). then add a can of drained black beans, corn, shredded cheddar, and bbq chicken. to get the bbq chicken i boil some chicken breasts, let them cool, then shred them (i like the 'pulled chicken' consistency here) and then toss them with trader joes bbq sauce… some bbq sauces are seriously stocked with high fructose corn syrup so check the ingredients if you're trying to make it especially healthy! toss it all together with some annie's ranch (again, most ranch dressings are full of msg, so check ya labels!). it is delicious and the kids love it. also, i haven't done this but i think it'd be good: hard boiled eggs on that baby as well.
taco salad: another keeper. to get taco salad, start with the same stuff as the previous salad–romaine, spinach, and iceberg. a note: i use baby spinach leaves always–the big adult spinach is a bit tougher and i'm not the hugest fan. then cook up a pound (or two) of ground beef. add a little seasoning to this if you like: chili pepper, cumin… you know the drill. then shredded cheddar, corn, beans (any kind of bean, really. pinto or white kidney beans would work well here too). cilantro, a couple big scoops of salsa… and then at the end, some sour cream and crushed up corn chips as well. i find that this one doesn't even need dressing cause there's enough wet stuff on the salad already.
*always go easy on the dressing and, in my opinion, skip the creamy ones. they're usually pretty nasty ingredients-wise. a little bit of dressing goes a long way and when the salad really calls for creamy, go with annie's (or another good, msg-free brand).
what about you? any fancy salad recipes to share with me?? gimme 'em!