oh guys, you're gonna love this.
you know those times when the day just turns out crappy and you chalk it up to, well, a crappy day?
but then, there's the times when it's a crappy day but the expectations were higher for that day… the expectations were the day would be extra special… and then it's a crappy day made crappier because the expectations weren't met?
this is why i purposefully don't go big on new year's eve. because if that holiday doesn't meet your expectations… well, your whole year is screwed. so the whole 'go big or go home' on new year's eve? i'd rather just go home (this new year's eve i was in bed by 10 pm and it was one of the best. put that in your pipe, new year's eve and your stupid expectations!).
but, i was hoping valentine's day would fall under the extra special category. is that too much to ask?!?
i started the day with a happy and kickin' baby boy between my husband and i. "happy valentine's day!" i said to the both of them with a big smile on my face. bring it, day of love! i thought to myself.
i made coffee, made steve some breakfast, we shared a hug or two. the kids left for school and i got a pork roast in the crockpot. all of this by 9 am! i planned on sauteeing squash and making quinoa to go with. look at me go!
steve gave me a present! my favorite girl scout cookies (samoas, duh.) and a little something from victoria's secret
(is this for him or for me? whatever! he got me a present! day of love is going well!)
. william gave me dove chocolates, my favorite, and lindsey gave me a handmade necklace.
v-day! go you! exceeding my expectations!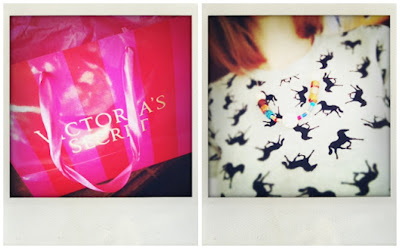 the night before i had taped a big heart to his steering wheel and made a love song cd mix. he was going to discover it momentarily when he got in his car to go to work. he'll wonder when i did that. then he'll listen to the songs the whole way to work with stars in his eyes because his wife is so sweet. points for being uber-sneaky and romantic. cupid's got nothing on steve and bridget! i said to myself.
parker took a nap, woke up, and with a skip in my (our) step we went to the grocery store to grab the ingredients for chocolate lava cake and chocolate-covered strawberries. check us out! making fancy desserts for the day of love! on the way home, i stopped at the liquor store to grab a bottle of champagne. champagne, some lingerie, chocolate covered strawberries… we'll always remember this valentine's day!
parker and i returned home, smiles on our face. the kids will be home soon! i'll give them their little valentine's day presents, and we'll make dessert together to be eaten after dinner. that dinner that i started making hours ago! remember?!
upon entering the house, i smelled it. dog poop. no, dog shit. dog shit everywhere. gracie had apparently lost control of her bowels in the 45-minutes we were gone and pooped everywhere. in multiple rooms on the first floor. on wood, on rugs, on her own bed (what? pooping where you sleep, gracie? really?). said rug being one of the only places on the first floor where i confidently put parker down knowing it's clean, new, and frequently vacuumed. he can tumble around and go all face-down-mouth-open on that rug. the rug that now had shit, soft shit, in multiple places on it.
all the vim and vigor i was feeling for this day was gone in an instant, my friends.
i called steve, almost crying. "we are getting rid of gracie." (don't judge me.)
then, i proceeded to clean it all up. all eighteen pounds of it.
the rug, a fairly shaggy rug, would be impossible to clean without a professional. when steve came home, instead of being presented with chocolate covered strawberries, a bottle of chilled champagne, and a wife who was wearing some black lacy undergarments (underneath my clothes, people), he got me: a frazzled, pissed wife who'd entirely forgotten it was valentine's day at this point. he patiently took every book off our book shelf, rolled up the rug (nearly brand new rug, remember?) and put it in the car for it to be taken to the cleaners. the champagne stayed in the fridge, the chocolate covered strawberries weren't made, and the chocolate lava cake sort of sucked.
then we drew up a contract (literally, a contract. that was typed up and signed by the kids.) about how they are going to walk her
(until she poops, dammit! what a novel idea!)
every morning so that gracie will hopefully leave her poop outside instead of inside. on everything.
i fell asleep putting parker down at 8 pm. sexy. and then when i woke up at 10:30 and realized i fell asleep, i went downstairs, steve and i emptied the dishwasher together, and then we went to bed together. this day needed to be put behind us.
so, it was very much the valentine's day that wasn't.
this song feels appropriate. cause folks, love needs a holiday sometimes. i know, that's two country songs in one week. what of it?!