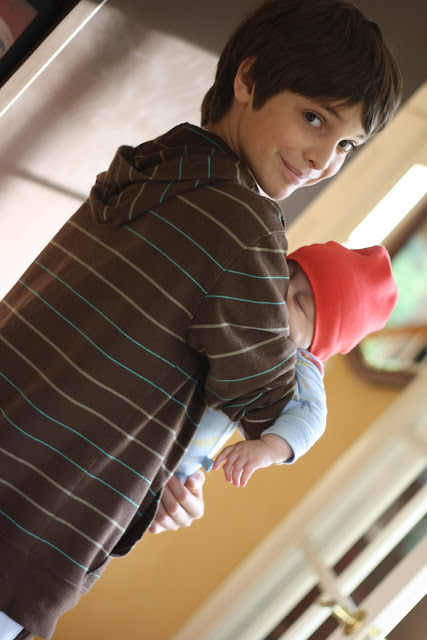 William is a lover. We always knew this about him. He's a nurturer, a comforter. He's the one who runs outside to help you in with the groceries (every single time). He's Steve's right-hand man when he's working outside in the yard, or cleaning the attic. He's happy to help you find your keys or run upstairs and grab your slippers for you (we try not to take advantage of this fact!). He says goodnight about four times each night just as an opportunity to get one more hug. He's one of the sweetest boys I know. He's got a good soul. So, it was only natural, that when Parker came along, the nurturing would extend to him as well. He's always jumped at the opportunity to change his diaper, grab his pajamas. He hears him on the monitor and begs to go up and get him. He wants desperately for Parker to sit still long enough for them to really cuddle (we tell him that day will come!). He will play with him while I cook dinner, and when we joked (after some poor night's sleep) that William was going to take the night-shift with Parker he says happily, "OK!". The kid is a dream. And, it's pretty evident, Parker loves him too. He reserves some seriously wide-mouth grins for his brother William.
It's really pretty sweet to see.

And, we're talking far into the future here, but some woman is going to be really lucky to have him (and he's handsome too).