in the past i've done a favorite things starting december 1st… like oprah's, but better (i think i've used that joke before too.). i posted one thing every day up until christmas. well, this year i just didn't do it. then i got a formspring question about whether i was doing it this year and i didn't realize anyone had even missed it (some of you are shaking your head all, "bridget. we didn't miss it. which is why you only got ONE formspring question about it.). so, to please everyone (maybe) i'm going to consolidate it into one whopping post right here, right now. shazam! here goes: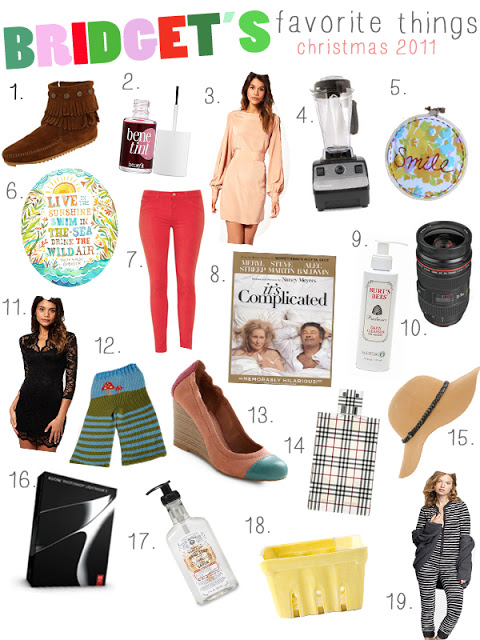 1. minnetonka double fringe boot (have these, love them) 2. benetint by benefit (like you just ate a red popsicle, thank you very much) 3. asos dress with cut out back (gorgeous, don't even get me started) 4. vitamix (it's pricey but it is a powerhouse when it comes to smoothies) 5. smile embroidery hoop 6. emerson quote print 7. jbrand red skinny jeans 8. it's complicated dvd (love this movie, soundtrack and all) 9. burt's bees royal jelly daily cleanser (smells divine, i love it) 10. canon 24-70 lens 11. asos lace dress (all these dresses and i've got no party fancy enough to go to! dang!) 12. crankypants longies (for parker, that is) 13. modcloth miss mesa verde wedge (they may make me a giant but i love them) 14. burberry brit (my favorite perfume) 15. forever 21 floppy hat 16. adobe lightroom 17. j.r. watkins soap in orange (steve says it smells like orange crush soda… and that's a good thing) 18. anthro glass berry basket (cuuutest) 19. j.crew pajamas
so, that's it. the long and short of it.