Hello, dear Bridget's readers! I'm so happy to be popping over while Bridget spends time with her tiny boy. I don't have a great theme for this post, instead I thought I'd just share a funny (ish) story about being a mother to, what my friend and I like to call, our little cavemen. Alternately, you can read my birth story here, a bit about what surprised me about motherhood here, and a recipe I like for babies and mamas and families here.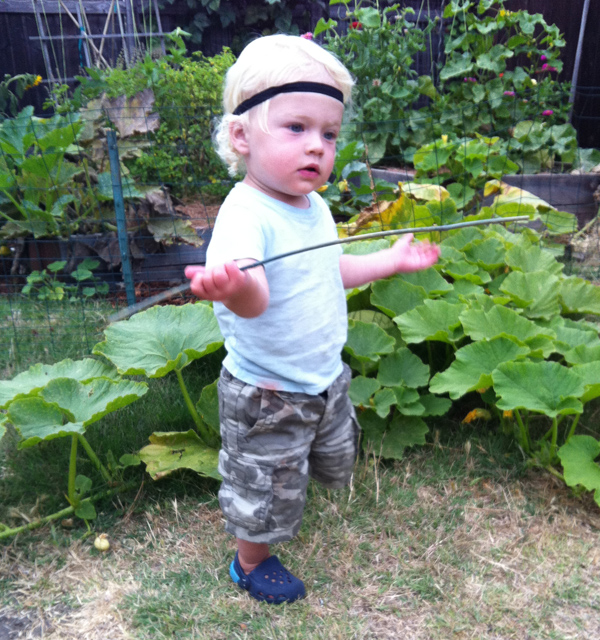 (My little caveman with his stick)
Dashiell and I usually spend the evenings after his dinner in the backyard, watching the chickens and eating blackberries and playing with sticks and all the other things that little boys like to do. Last week, he was doing his usual rounds of the garden with a very nice, perfectly sized stick. I was taking pictures of him with my phone, (natch!). And the next thing I know… stick in my right eye. OWWWWW. I actually started to cry a little, as it did hurt an awful lot. Dashiell thought I was laughing so started to laugh too. Which made me feel all the more sorry for myself. And I was a little scared that something might be seriously wrong.
When I didn't immediately get up, he started to run worried laps around me saying, "mama. mama. maaammmma? mama. mamaaammmmaa!" To which I eventually responded with some difficulty. And then we'd repeat the mama-silence-baby-worried process all over again. We were quite the duo. At husband's insistence, we eventually ended up in the ER, just to be safe. A few hours later I came home with a patch on and a very very sore eye.
Dashiell spent the weekend saying "Mama, eyyeeeee? Eyeee? Mama, eyeee?" Terribly concerned with the whole thing, though luckily I doubt he realized that he in fact was the inflictor of my injury. The poor, sweet dear. They really are so sensitive, the little cavemen.
I spent the next day on the couch, mostly sleeping and trying not to move my eyes. But we did attempt to go out for dinner anyway, because I was desperate to get out of the house. And when you have the little ones, life must go on! Here we are enjoying pizza with a patch: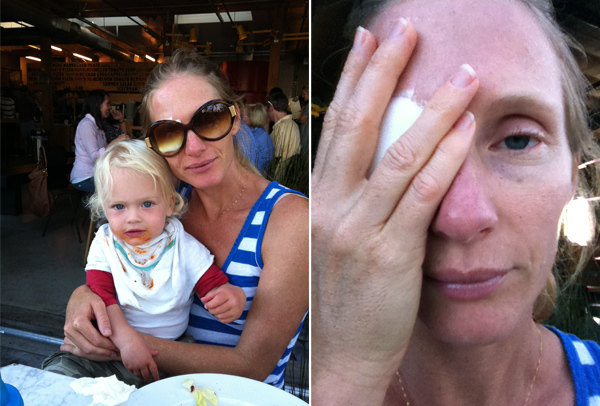 The moral? There really isn't one, except that it would have been infinitely more traumatic had Dashiell's eye been the one scratched. And for that I'm thankful that I took one for the team. Sometimes motherhood is a bit about suffering (ahem, no sleep!), but even when you are struggling, I've found that it's so very tolerable because you look down and there's this beautiful little creature that has made you into the person you are, poked eye and all.
They change us in ways we couldn't imagine, don't they?
Hello, baby Hunt! We from the internet are so happy to welcome you into this world! Congrats to Bridget and the entire Hunt family. May you all get out this without a scratched cornea among you.
And um, perhaps be more careful than I about letting the little caveman play with sticks.