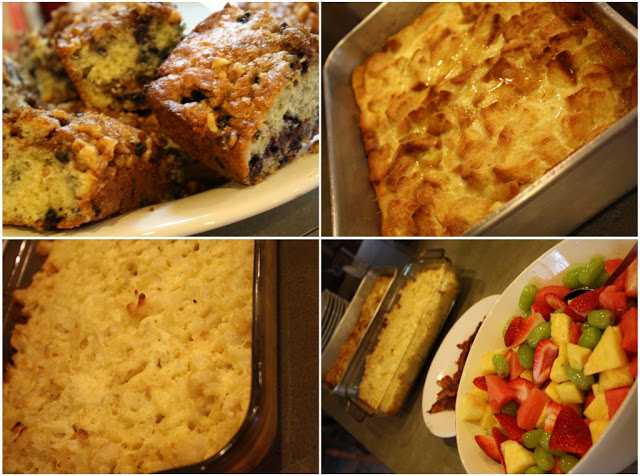 I really like brunch foods. I like eggs, I like light sandwiches, I like fruit, I like hashbrowns… thus, brunch is one of my favorites. So, this Easter, brunch it was. Most of it could be done the night before which was great because Boston actually decided to let the sun out for a bit and temperatures got up to 70! I didn't have to spend my morning in the kitchen which was nice. Though, we were at church for the majority of the sun, but that's ok. Cause the Lord is risen!
Moving on… it was delicious. I don't like to say that about my own cooking too often but, there, I just did. And I'm sure you could find plenty of other places on this blog where I've said it. So maybe I'm just a liar. Either way, it was good. But not because I'm a kitchen-magician. Just because I followed the recipe. You can too. And have the same results. Do it.
First things first.
Blueberry yogurt cake
. This is moist and not too sweet and delicious. It's also something that, chances are, you already have the ingredients for in your pantry. I'm going to send you to the fine woman behind Shutterbean for the recipe because she's already graciously typed it out so why do it again? Only changes I make are I skimp a LITTLE bit on the white sugar and I use whole milk plain yogurt instead of low fat. Done. Also, since hearing about this recipe not long ago I've made it twice and I'm not a real big baker, so trust me. Make it.
Egg strata is next. This is so good. And sooo easy.
Egg Strata
1 pkg. Chatham Village Garlic/Butter Croutons
6 eggs
4 c milk
4 T butter
1 t dry mustard
1 t onion flakes
3/4 c chopped ham (I left this out and didn't miss it – I'm not a big ham fan)
2 c shredded cheddar
Melt butter in bowl. Add milk, eggs, seasonings. Whip to frothy. Add ham, cheese, croutons. Push croutons down till they submerge in liquid (they'll pop up again). Pour into greased 9×12 casserole dish overnight. Next morning, bake for one hour at 350 degrees.
Then comes the totally unhealthy but delicious hash brown casserole. And, I break my own rules here and I used cream of chicken soup. Gah. Our MSG-laden brains are now bouncing off the walls because of it. William has been repeating the words, "Hash brown. Casserole. Casserole. Give me. Give me. More. More," since eating it, but we're not too worried.
Hash Brown Casserole
2 lbs. hash browns, frozen (cubed or shredded–doesn't matter)
1/2 c melted butter
1/4 t salt
1/4 t garlic powder
1 t season salt
3/4 c chopped onion
1 can cream of chicken soup
1 pt sour cream
2 c shredded cheddar cheese
Mix all of the above together, put in 9×12 casserole pan, and bake 1 1/2 hours at 350 degrees.
It's such good and moist and yummy comfort food that you won't care, at least momentarily, that you're filling your veins with an addictive food preservative that kills your brain cells. Hurrah!
And because I didn't have an hour and a half to bake it before we'd need to eat, I baked it for about an hour and 10 minutes the night before, then finished it for about 20 more minutes the next day. It totally worked.
And then the fruit salad. Well, that's just fruit salad. But, I tailored it to my own liking (I'm the cook and I can do that!) and left out the cantaloupe and honey dew. I'm not a fan of those.
I should mention that two of these recipes come from my totally kitchen saavy friend Gail who we usually spend Easter with but was soaking up the rays in Florida this year. Whatever.