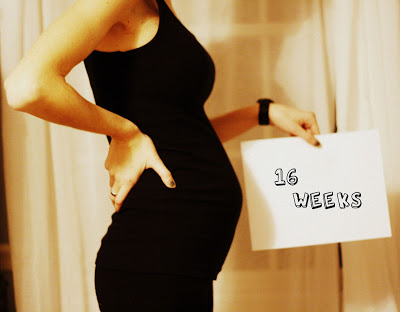 (last week's picture)
so, believe you me, it is nice to have finally shared our news with you.
now to backtrack since i've kept you guys in the dark for the last few months…
i found out i was pregnant a few days after my birthday (mid november).
happy birthday indeed!
i discovered it after my third night of having to get up around 3 am to go to the bathroom.
as it turns out, when you're me, that symptom comes immediately.
annnnnd the sore boobs.
so, 3 am, i'm up going to the bathroom and i decide to take a test.
i wait… wait… wait…
"pregnant."
i wake steve to tell him.
with a cocky smirk on his face he says, "this is what i do."
(he thinks he's the man since that was his first line upon discovering he impregnated his wife)
and then we hugged and all that.
and couldn't go back to sleep, duh.
so we watched a dvd of modern family that we happened to have until a normal waking hour.

so… 4 weeks… 5 weeks… 6 weeks….
first ultrasound at 9 weeks on december 23.
176 bpm and a moving baby. so exciting and surreal.
merry christmas!
i was quite excited to get to the 12-week mark.
heard two more great heartbeats.
(167 and 158 bpm – go baby!)
including one that they couldn't find at first.
(that really sucked)
and 20 excrutiating minutes later, i was on the ultrasound machine
seeing a healthy baby once again.
haven't had any real morning sickness to speak of
(don't hate me)
and extra tired for sure – i've always loved my sleep so now i have an excuse to do a lot of it!
mostly just feeling a little off at times and a more urgent need to eat.
haven't had any specific cravings…
it's more when i get my mind on something, i've got to have it.
or i just have always been this way but have less willpower to say no?
a fuddruckers' burger being among the must-haves
(and mcdonalds' hashbrowns as you all already know).
told the kids two weeks ago when i finally began showing a little.
lindsey cried (seriously) and skipped around the kitchen.
it was adorable.
william… he's unsure.
i think he thinks a baby will come out ready to destroy his legos.
i've assured him that won't happen for quite some time.
and nathaniel and jordan think it's pretty cool.
i've told very few people until now.
i was pretty anxious of something going wrong.
but i am praying (something i'm not very good at)
and trying my very best to give this sacred little life over for protection from above.
and here we are… 17 weeks and thrilled.
nervous, excited, thrilled.
and we are finding out what we're having.
don't try to stop me.
and thank you so much for all your well-wishes.
i'm glad you guys are now in the know so i can ask things like
"were you constipated when you were pregnant?"
"are aches in your belly normal?" and
"holy cow, how quickly did your boobs go up a size?"
and happy v-day. baby is already taking over holiday posts. geez.
(husband and i are celebrating this weekend, so i'll give it the appropriate attention then)
but, if you're not sick of our love story yet, it's here!