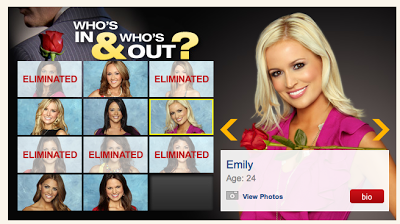 last week's
was a hit and i loved reading your comments. clearly, i'm not the only obsessed one.
once again, let's pretend the show's not over and that they read my blog, blah blah blah… here goes.
ashley, so you're still here. well, you or shawntel will go next week, i'm pretty sure. and i haven't been a huge fan of you but i kind of liked you this episode and also thought you rocked the sports illustrated shoot.
britt, jump off the damn rock. geez. and, you really do seem like a nice girl, but meh, this venue's not for you (obviously). and how is it that america always sees the rejection coming before the girl ON THE SHOW? 'well, brit, you are a great woman and today's been fun…' 'i know! i loved it!' 'well, brit… there's a but…' it's painful.
chantal, you cry too much. but, in your defense, if you do in fact love this guy as you say you do, it would royally suuuuck to watch him macking on other girls so i don't blame you for being pissy at the group date. but, if the spoilers are true, you go home with him in the end. after the group date when you walked to the ocean my husband said 'and this is the episode where she drowns herself' — glad you didn't b/c i really think brad likes ya.
emily, apparently your date was great but abc didn't show us a whole lot of substance there. i think you still need to open up more. and for reals, we're going to base your relationship off how a 5 year old feels about brad?! 5 year olds are shy, silly, and different based on their whim of the day. don't let the commercials for next week be true–your "worst nightmare" is coming true b/c your little girl is acting awkward around brad?! come on.
michelle, ding dong the witch is dead. j/k j/k. i see that most of your craziness was light hearted and humorous (i think) but why didn't you talk to him before you went? and why didn't you talk in the limo? give america something to write home (or on their blogs) about!!! i am more convinced that this was all an act by your departure but i guess we'll have to wait for 'after the final rose' duh duh duhhhhh. oh yeah, and you miiiight've been voted off cause you lick your lips too much. goodness gracious i think i counted about 6 times while you talked on the balcony at the group date.
shawntel, still like you and your style. not sure he's that crazy about you though. but if you get voted off we can be friends? i'm not that freaked out by the whole funeral director thing. but maybe you could downplay it a bit?
and that's all for now, folks. thoughts?
*footnote: brad/abc, enough with the helicopters.