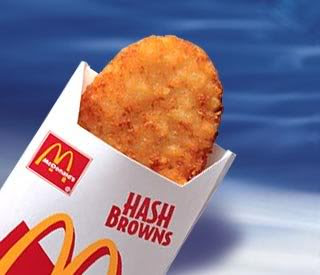 In the wintertime mornings, I look frightening without make-up on.
This morning, Steve made breakfast for me. We were going to go out to breakfast but then decided not to, but since I thought we were going out for breakfast I had already planned the meal I would order (bacon, egg, & cheese sandwich with hashbrowns and a large apple juice). Since we didn't have potatoes or apple juice but I already had them on my mind, forgoing them was impossible. I went, in my pajamas and with Gracie in the passenger seat, through the McDonalds' drive-thru for apple juice boxes and two hashbrowns (both for me). Then came home and enjoyed our breakfast together. Embarassing?
For the past year, I have gone to Target about once a month or every other month. It is a really special treat because, not only am I at Target, but I go to their hot food section, order a personal pan pizza and a small icee and I walk through the store while eating them. I call my sister Kate every time and say, "Guess what I'm doing?" because she really gets a kick out of the whole thing.
I let our fridge get unbearably bare (yes, unbearably bare) before going to the grocery store again. It's like a game to see how long we can go without milk until I replenish our supply. We can go a few days. No one's particularly happy about it, but I think it builds character.
I want another dog. Gracie needs a buddy but husband needs to be convinced.
I just asked Steve for a few others and he said, "How about that you haven't ironed a shirt of mine since last spring?" And I reminded him that I did iron some a few weeks ago. So, this confession really is that my husband a) doesn't notice the good things I do and b) needs to iron his own shirts. Boo-yah.
Disclaimer: It sounds like I'm a junkaholic from this post. I'm not. I just like to indulge… sometimes.