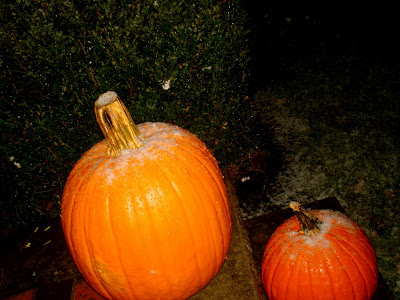 the poor dears
yes. that is indeed snow on my pumpkins. my pumpkins that were never meant to have a dusting of snow on them. my pumpkins that were first meant to see the leaves change colors and fall around them BEFORE the white stuff arrived. my pumpkins that are still 2 weeks away from being made into jack-o-lanterns, or pumpkin pie. it's fall in massachusetts and this fall, that means snow.
the husband and i throw around ideas. we idealize and romanticize, romanticize and idealize (sounds profound when i flip the words and repeat) about other places… him: well, not as much… me: california, new york city (can you really see us cartin' ourselves around central park, 4 kids, maybe more, a dog… like i said, we romanticize), north and south carolina, chesapeake area, the virgin islands. this thinking rolls in in a major way in about march when massachusetts is in its 82nd straight day of gray.
i've come to the conclusion that i can't be landlocked. i think the husband mostly agrees. even if i never go to the ocean, the option must be there. those middle states… well, i don't know how they do it. i need the possibility of endless water within at least an hour's reach (okay, maybe two hours) and sand between the toes (might that be the most cliched beach phrase of all time?). and we'd like to be close to family. but, who knows where we'll end up, or if we'll ever leave the north shore (which, i must add, is really lovely for a few months of the year and does in fact have some beautiful beaches within LESS than an hour's trip). nevertheless, snow was never meant to land on my perfect pumpkins. and massachusetts, i might not forgive you for this one.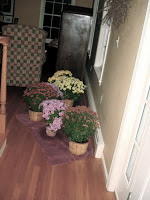 (my poor shivering mums hiding out inside)